Mozilla releases Firefox 7 -- get it now!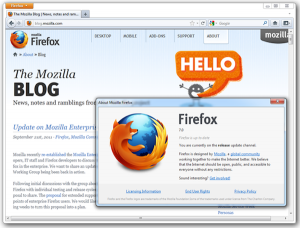 Mozilla has placed the final, stable build of Firefox 7 on its FTP servers. This latest build has one major game-changing improvement to speak of, which should ensure that Firefox performs more efficiently and doesn't gobble up system resources when left running in the background.
Version 7.0 also sees improved graphics performance in Windows, but as with the recent releases of Firefox 5 and 6, other changes are relatively minor, with a slightly tweaked Address Bar and faster bookmark and password changes during Firefox Sync operations being the most notable, visible tweaks of interest to end users.
The game-changing improvements in Firefox 7.0 surround its memory usage and optimization. Mozilla claims that Firefox 7 reduces memory usage by at least 20 percent, and as much as 50 per cent in some cases, while still delivering improved startup and page-loading times, as well as overall responsiveness.
Of equal importance is the fact the memory leak  that has plagued earlier versions has finally been addressed with the Javascript garbage collector, which has been tweaked to run more frequently to free up memory no longer in use. It means the browser can now be left running for an extended period of time without quietly eating up more system resources in the background.
Better still, you'll now be able to free up system memory simply by closing unwanted tabs as opposed to having to shut the browser down and restart it.
Windows users also get a performance fillip with the introduction of a new graphical component called Azure, which promises better performance when rendering Canvas operations, part of the new HTML5 standard.
Firefox's Awesome bar (the Address bar to you and me) also features more subtle changes to add to those introduced in version 6 – gone is the "http://" prefix, while the subdomain element of a web address is made even paler to highlight the main domain.
Firefox Sync has also been tweaked to sync password and bookmark changes more frequently as they're added or edited, while other changes are more minor, involving support for a new CSS3 Text Overflow method (ellipsis) and a new web timing spec, allowing developers to measure page load times and site navigation, enabling them to identify website performance improvements.
The latest release comes six weeks to the day after Firefox 6 shipped, right on schedule according to Mozilla's new rapid release cycle. Those unhappy with this switch to a new version number every six weeks will be alarmed to hear that Mozilla has discussed, and not completely rejected, the idea of shortening the release cycle to just five weeks -- although it's clear from the discussion this won't be happening any time soon.
Firefox 7.0 is available for download now under the open-source license for Windows, Mac and Linux. It will be shortly be offered as an automatic update to all existing Firefox users.