Android users can detect Carrier IQ, everyone else is out of luck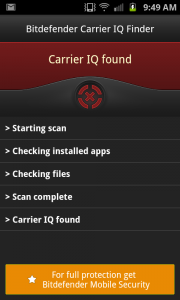 Android users have a multitude of options in order to detect whether Carrier IQ exists on their smartphones, with at least a dozen applications available through the Android Market. While most of the apps will not stop Carrier IQ from running, they will at least give those concerned with the company's actions some solace in knowing for sure whether they're being tracked or not.
Carrier IQ's discovery -- that stealthily monitors cellular users' smartphone activity -- set off a firestorm of controversy over the past several weeks. Some see it as a serious threat to users' security and privacy, while others have likened the reaction to mass hysteria generated by the media.
Even here at BetaNews the subject of how exactly to cover the Carrier IQ story has become quite contentious. I've asked this question repeatedly: is it really as bad as it seems? With the court cases now revving up, we will find out soon.
BetaNews tested out two of the available options -- BitDefender's Carrier IQ Finder and Lookout Labs' Carrier IQ Detector. The tests were performed on a Samsung Galaxy S II Skyrocket running Android 2.3.6 on AT&T's network, and both found Carrier IQ present but didn't indicate whether or not it was active. We presume so.
Lookout's app has gotten between 100,000 and 500,000 downloads as of Wednesday afternoon, while BitDefender had received less than 50,000 downloads.
We also spotted a few apps that claim to freeze the process that runs Carrier IQ's hidden application. These include Trey Holland's Bloat/CIQ Freezer Free and RDMSoft's Carrier IQ Process Killer. Without more extensive tests, we can't independently verify these actually work as advertised, but customer reviews are generally positive.
Have you got an iOS, BlackBerry, or Windows Phone and want to know where you stand with Carrier IQ? Right now you're out of luck. Apple's App Store did not contain any apps to detect the software: neither did BlackBerry's App World nor Microsoft's Windows Phone Marketplace.