RIAA's Waterloo? Anonymous Looks to set streaming music free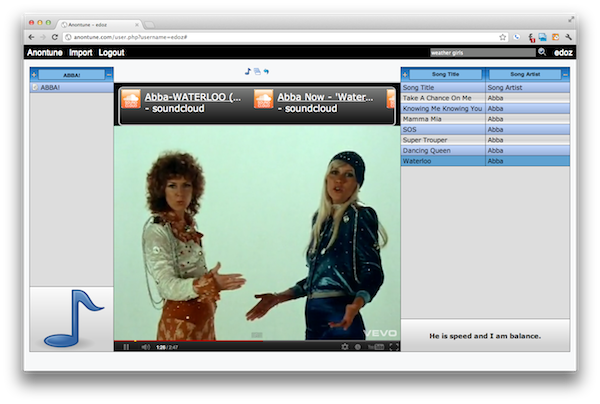 Streaming music content is too restrictive, believes hacktivists Anonymous. Six members of the group have released Anontune, a web-based application that aims to aggregate streaming music online and place it in a central location. AnonTune currently accesses the catalogs of YouTube and SoundCloud, although the developers plan to add content from other services including Yahoo Music, Myspace Music, Bandcamp and others in the future.
True to the groups name, users will be able to listen to tracks anonymously, and Anonymous itself will not store the tracks. Instead it depends on the catalogs of the services it aggregates, thus leaving the sticky copyright issues to those sites. Recording Industry Association of America's Waterloo, indeed. The next one, if Napster wasn't enough a computing generation ago.
"The legal responsibility for ensuring its removal is in the hands of these services, not Anontune", the developers say in a whitepaper released this week. "Anontune will include the means to interact with multiple music networks on one platform".
Users will be able to search for music and create playlists based on what is available through Anontune's sources. While the user interface leaves a lot to be desired, and often you'll not get the music video itself but rather whatever result Anontune's "music engine" finds first, it certainly is a start.
Anontune provides an answer to a sometimes frustrating problem. One streaming service may have the track available, but another not. As it stands now you're forced to bounce from site to site to find what you need. There's no one-stop shop to search and play these videos (Google's video search comes close). These six hackers believe Anontune is the solution that will answer that need, and will in turn set streaming music free.
Make no mistake, this is not necessarily bad news for RIAA, as it may actually serve the group's interest. Anontune could pull music off of officially sanctioned channels, such as Vevo's (it already does), and exclusively stream content from these sources. There would be no grounds for RIAA's displeasure as Anonymous is distributing content that its own members have given their blessing to.
There's something to be said about Anonymous pulling in the seedier stuff as well. I cannot tell you how many times I've found a hard to find track on YouTube that is next to impossible to find through legit services. The 100 percent legal method doesn't work every time.
We couldn't get RIAA to comment on Anonymous' moves as of press time.
One final point: some may find Anonymous' use of Java to power the site a little unsettling considering the many security issues the platform has had over the years. If you're truly worried about its security, I'd recommend running Anontune on a virtual machine until someone goes over this with a fine-toothed comb.
Anonymous says this is not necessary, though. "Why the hell would we harm our users? That would really be a little counter-intuitive to our cause, correct?" it says, adding the media is crying wolf here. Call me crazy, but the "causes" have led to some improper behavior in the past. Until proven wrong, I'm still skeptical.
What do you think of Anontune? Does it have promise? Do you trust Anonymous to "set music free"? Let us know in the comments.