Microsoft censors site criticizing Windows 8 tile UI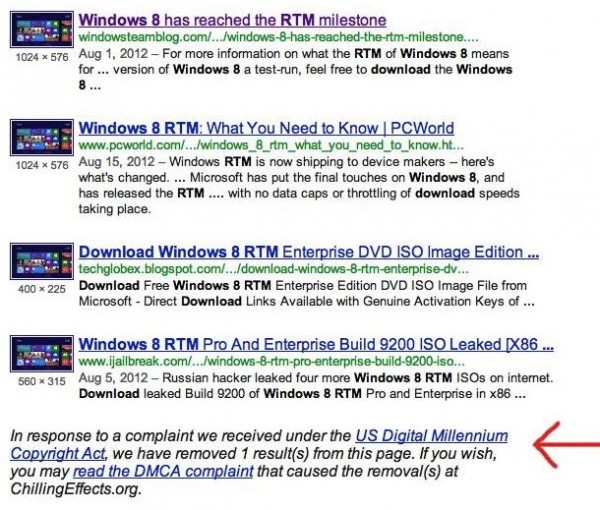 Something's fishy here. A message board thread where developers unanimously criticized the Windows 8 tile interface has been delisted from Google, thanks to a Digital Millenium Copyright Act (DMCA) takedown order issued by none other than Microsoft itself.
The board is dedicated to ConeXware's Power Archiver compression toolkit, and the thread in question began on August first, when Windows 8 was released to manufacturing. The post announcing the RTM was then followed by a handful of comments from different users and developers who panned the Windows 8 interface.
These comments included:
"Words cannot describe just how much I hate that Metro Interface. Yuck!"
and:
"The problem here is that Metro isn't designed to be used with a keyboard and a mouse. I don't understand how MS could come up with this idea of mixing two totally different GUIs with each other."
and:
"I hate Metro and cannot use it...The kicker is that MSoft is removing the desktop option AND making sure that those hacks that bring it back do not work."
Then, on August 17, Microsoft filed a complaint with Google that this message thread contained copyright infringing materials.
ConeXware co-founder Drazen Dodig concluded the copyrighted material on the thread could have been the screenshot of the Windows 8 interface taken from the Windows Team Blog. That was the only thing, besides the negative commentary, that could have been problematic.
Interestingly, the very same image was used on publications such as The Verge, PC World, iJailbreak.com, and many other sites that very same day. Indeed, when we do a Google Image search for the picture, is says the Power Archiver message board was the only instance of a DMCA removal of that image (Screenshot above.)
Here is the notice:
Notice of DMCA removal from Google Search August 17, 2012

Hello,

Google has been notified, according to the terms of the Digital Millennium Copyright Act (DMCA), that some of your materials allegedly infringe upon the copyrights of others. The URLs of the allegedly infringing materials may be found at the end of this message. The notice that we received, with any personally identifying information removed, may be found at

http://www.chillingeffects.org/notice.cgi?sID=508157

Please note that it may take several weeks for the notice to be posted on the above page.
The DMCA is a United States copyright law that provides guidelines for online service provider liability in case of copyright infringement. We are in the process of removing from our Google Search results the materials that allegedly infringe upon the copyrights of others. If we did not do so, we would be subject to a claim of copyright infringement, regardless of its merits.

See http://chillingeffects.org/dmca512/faq.cgi for more information about the DMCA, and see http://www.google.com/support/bin/static.py?page=ts.cs&ts=1114905 for the process that Google requires in order to make a DMCA complaint.

If you feel that your sites or pages were mistakenly removed due to a DMCA request filed against you, or you have taken the necessary steps to remove the infringing content, Google can reinstate these materials into its search results upon receipt of either a DMCA Counter Notification form, or a Content Removed form.

To request reinstatement for a URL where the allegedly infringing content is still available, please fill out our DMCA Counter Notification form:

http://www.google.com/support/bin/request.py?contact_type=lr_counternotice&product=websearch&hl=en

If you have removed the allegedly infringing content, you may fill out our Content Removed

Notification form:
http://www.google.com/support/bin/request.py?contact_type=lr_counternotice&product=cnremoved&hl=en

If you have legal questions about this notification, you should retain your own legal counsel. If you have any other questions about this notification, please let us know.

The affected URLs are listed below:
The details of the takedown notice have not yet been posted to chillingeffects.org, so this story is still developing.
UPDATE: Though the Power Archiver message board was the first site hit with a DMCA notice for that particular image, it appears that Microsoft last weekend filed other complaints directly with Google, but did not contact site owners. One of our own stories from September 2011, was delisted on Friday. Coincidentally, that story included a fair number of negative comments against the UI, as well as others examining the possibility of a registry hack to remove it.
UPDATE (8/24): We received the following statement from Peter Anaman, Online Piracy Senior Program Manager at Microsoft:
"Microsoft is committed to ensuring that copyright is respected online. To protect our intellectual property, Microsoft's anti-piracy programs target links to infringing copies of our software; we do not target commentary. Based upon our review of these forum threads as they currently stand, we've determined they no longer contain links to infringing copies of our software, and we have contacted Google about reinstating the search results."