Microsoft's Windows Store protection cracked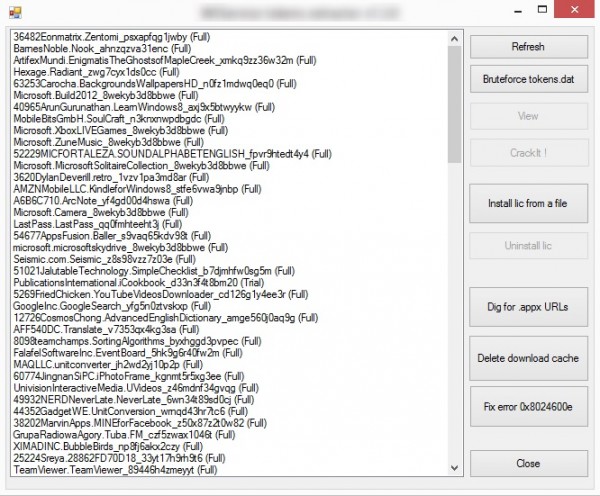 Windows Store is among the noteworthy features of Microsoft's new operating system released just a month ago. Users can install free and paid applications right from the store interface that is integrated into Windows 8's new Start screen interface. This improves security for users as store apps do get verified by Microsoft before they are made available in Windows Store.
Many paid applications in Windows Store are available as trial versions that you can try for a seven-day period before you need to make a buying decision. Developers do not have to offer their products as trial versions in the store, but they are encouraged to do so to make their apps available to a wider audience.
A recently released hacking tool takes advantage of the feature to turn trial versions of commercial Windows Store apps into full versions. Wsservice_crk was released on October 30, 2012 on the My Digital Life forum and updated several times since then by its author. The package includes programs to crack Windows Store applications, sideload unsigned apps so that they can be run on Windows 8, as well as source code and documentation.
Installing the hacking tool is not without risk, as it requires patching system files before it can be used. The patching of core system files can lead to various stability and security related issues that are not foreseeable.
Afterwards it is only a matter of downloading trial apps from Windows Store and pushing a single button to turn the trial app into the full version.
The cracker program is not compatible with Windows RT devices, being provided for x86 based systems. There are limitations, too. For example, hacked apps cannot be updated via Windows Store. A solution has been posted to overcome the issue, but it involves a lengthy process in which the application needs to be uninstalled from the system, then downloaded from the store, before it needs to be patched again.
Another issue that some users may experience: the crack only works if users have access to a trial version. If you have downloaded the trial of an app before, you can't really download it again unless you delete the machine ID on the system to reset all associated with the copy of Windows.
The program offers additional functionality for an advanced audience: the means to create app packages that can be redistributed and to sideload applications that are not signed by Microsoft.
This is the first application for Windows 8 that enables users to bypass the protection that Microsoft built into the store. It is too early to say if the release of the application will have an effect on the willingness of Windows Store developers to offer a trial version of their paid applications in store.
It is however almost certain that this won't remain a one-of-a-kind application, considering that its developer has added source code, documentation and samples to the download package.
Microsoft is looking into reports of the cracking software, a spokesperson told BetaNews.