Genymotion lets you emulate Android directly from your desktop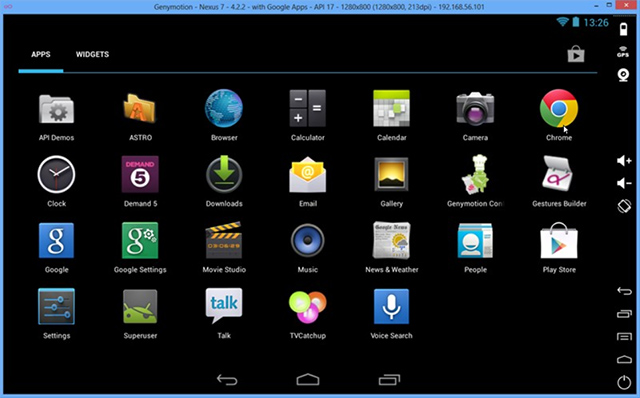 Ever wanted to emulate an Android phone or tablet on your PC or Mac? Perhaps you're a developer who wants a more convenient way to test code, or you're looking to demonstrate Android in some way. Or perhaps you're simply someone who wants to give Android a test run without going the whole hog and spending good money before giving it a whirl?
There's a simple solution to all of the above -- and that's to install the free Genymotion 1.3.0 for Windows, Mac and Linux.
Genymotion builds on the previous work of the open-source AndroVM project to deliver a realistic and fully functional Android environment based on a range of different phones, tablets and Jelly Bean builds. You'll need VirtualBox installed, and you'll also need to sign up for a free Genymotion account before you can start download virtual machines.
Once done, however, you'll find yourself at the main Genymotion screen, which will be familiar to anyone who has previously used virtualization tools like VirtualBox. Start by clicking Add to select from a wide number of Android tablets and phones, with different emulated models and versions of Jellybean provided. For best results, choose a model with the Google Play Store, so you can experiment with just about any Android app you can think of.
Once the download -- around 200-300MB -- is complete, click Play, choose No when prompted about the ADB, and wait while Android boots swiftly. From here on it you have an authentic Android experience, from setup through app installation to daily use.
Realism is the name of the game here, with Genymotion set up to deliver as accurate an experience as possible. That means supporting a wide range of networking protocols, including GPS, 3G and Wi-Fi, OpenGL acceleration and multi-display, battery levels and more, with additional sensors currently under development. Some of these may be part of a future paid-for premium version. A series of controls down the right-hand side of the screen gives you access to many of these.
Genymotion is aimed mainly at developers, testers and demonstrators, but it's great for gamers and anyone who wants to try out Android without having to purchase a phone or tablet first.
Genymotion 1.3.0 is available now as a freeware download for Windows, Mac and Linux machines with 2GB RAM, OpenGL 2.0 graphics card and VT-x/AMD-V capable processor with virtualization features enabled in the BIOS. For a more detailed look at how Genymotion will likely adopt both free and paid-for versions going forward, check out this blog post.