Lync app for Windows 8.1 gets an update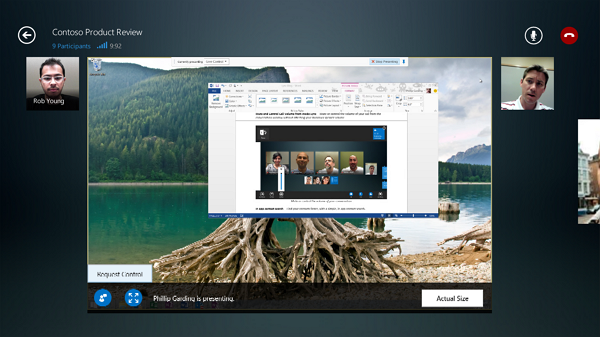 Microsoft's business communications app Lync, formerly known by the catchy name of Microsoft Office Communicator, has become a go-to instant messaging service for a number of businesses. It works with contacts from Outlook and uses Microsoft Exchange Server, to help bring people together, regardless of where they are.
Now a new update to the Lync app is being pushed out, and this one is exclusively for Windows 8.1. "Based on your feedback, we made a number of improvements in this update that we think you'll like", the Lync team announces.
The new app allows screen sharing duties to be handed off during a meeting, lets users run Lync side-by-side with another app or website, answer audio and video calls from the lock screen, mute and control volume from within the app, and improves search.
"To download the update, you need to first upgrade your device to Windows 8.1. Once you have Windows 8.1, Lync will upgrade automatically within 24 hours unless you have turned off Automatically update my apps in Windows Store", Microsoft explains. Those who wish to get the update sooner can download it from the Windows Store. The Lync team promises continued improvements on the way.