Batch convert PDFs to image formats with PDF to JPEG Expert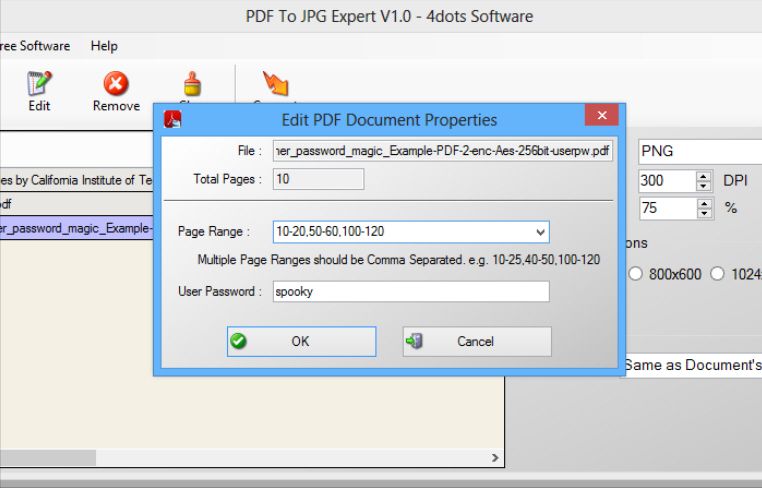 PDFs are great for distributing information, but not so convenient when you need to reuse their content elsewhere. Fortunately there's now a host of free tools able to convert PDFs into other formats, and the latest is the entirely free 4dots Software's PDF to JPEG Expert.
The program is simple to use. At a minimum you might import one document or an entire folder; choose your preferred image dimensions and resolution, then click Convert and wait for the results.
There are also one or two surprising extras, though. For example, despite its name, the program doesn't just export JPEGs. There's also support for saving PNG, PSD, BMP, TIFF and even PCX files.
You're also able to convert password-protected files (as long as you know the password, anyway). And while by default PDF to JPEG Expert processes every page in the source file, you can alternatively specify a page range ("10-20, 32-48").
We spotted some problems, too. These started small, when we noticed that the interface doesn't properly rearrange itself if you resize the program window; the right-hand options are left bizarrely floating over the main program table.
More seriously, several of our test files weren't converted properly. We pointed the program at a few PDFs that were themselves just a collection of JPEGs, and the resulting pages were either blank or very low quality.
The news wasn't all bad, though. Entire folders of more standard PDF files were converted without issue; there were no problems with our password-protected documents; and you get plenty of control over the export file, right down to TIFF compression method (LZW, G4 FAX, or uncompressed).
PDF to JPEG Expert needs plenty of work, then, but it's already capable of performing useful work, and if you need to convert PDFs to more than just JPEGs then it might be worth a try.