Kaspersky launches a 'safe' Windows Phone browser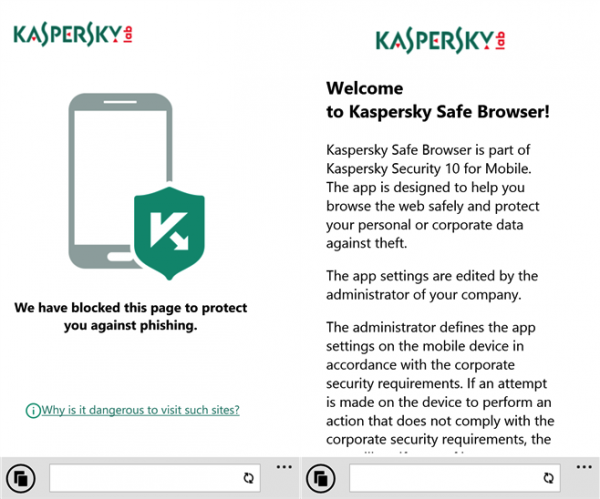 Due to its low market share, Windows Phone is not a popular target for malware writers, which gives users a sense of security. Whether that is genuine or false it remains to be seen, but, for the time being, the platform can be considered devoid of any malware.
Like iOS, Windows Phone limits what users, and apps, can do to increase security, which is also one of the reasons why malware is not running rampant. This is achieved through a number of dedicated features, like sandboxing. However, the operating system cannot keep users from visiting the darker corners of the InterWebs, or keep them safe from potential risks while doing so. Russian security company Kaspersky has decided to take matters into its own hands, and help those who navigate to suspicious or unsafe websites, by launching Safe Browser.
The app is meant to "help you browse the web safely and protect your personal or corporate data against theft", according to its description. Safe Browser is designed to be used casually as well as in corporate environments, where IT administrators can control the app's settings and adjust them to the company's policy.
Kaspersky does not provide any details that explain what exactly makes Safe Browser a good choice for Windows Phone users, but it has some neat tricks up its sleeve, some of which the company is not mentioning directly. The app can be used to block specific types of websites, for instance, like the ones that feed nudity or violence, and offers a quick way to get rid of any browsing traces.
Kasperky's Safe Browser is also among the few third-party browsers that are available in Windows Phone Store today, joining the likes of Nokia Express, Maxthon and UC Browser.
Kaspersky Safe Browser is available to download from Windows Phone Store.