Samsung unveils ARM-based Chromebook 2 -- designed for home and school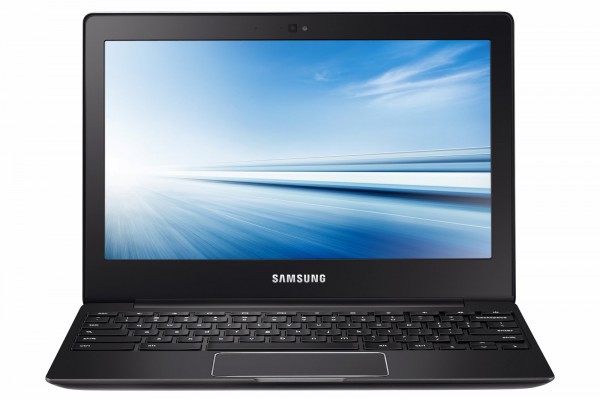 My first-ever Chromebook was a Samsung. The 11.6-inch laptop was inexpensive and revolutionary. Heck, it looked like a plasticy Macbook Air -- very sexy. However, all that glitters is not gold. While my relationship with the laptop started strong, the dual-core ARM processor and paltry 2GB of ram proved underpowered. Pages would load slowly, and the lag could be extremely frustrating.
While many people think of Chrome OS as being just a web browser, remember, it is actually a Linux distribution running a web browser. The more RAM the better, with 4GB being the bare minimum for an enjoyable experience. Today, Samsung announces two new ARM-based Chromebooks to serve as a follow-up to the original. Not only is the RAM increased, but the CPU is supercharged too.
"The new models, available in 11.6- and 13.3-inch configurations, improve on the popular Samsung Chromebook line with faster performance, longer battery life and a slim, light build enhanced by a durable textured lid and elegant stitched design. The 13.3-inch model also features a Full HD (1920x1080) resolution screen, enabling users to enjoy vibrant visuals for work, teaching and learning, and entertainment", says Samsung.
Samsung specifically sees an opportunity in the classroom. The manufacturer explains that these new laptops are "ideal for educators and administrators seeking to adopt one-to-one learning programs. Using the web-based console -- available with support from Google for $30 per device for schools Samsung Chromebooks can be centrally managed, making it easy for educators to configure a set of laptops across the classroom or the entire school. Samsung Chromebook 2 is a classroom-ready and cost-effective solution to support dynamic teaching and learning".
Google seems excited about these models for schools too. The search-giant says, "we're also adding more choice for schools looking at Chromebooks. Samsung announced the new Samsung Chromebook 2 Series, with more than 8 hours of battery life, more memory, a faster processor and a more durable design. There are two models that will be available for both schools and consumers in April".
Yes, you've read that right, we must wait until April for these new Samsung Chromebooks. However, pricing is already known -- the 11.6-inch model will sell for $319.99 and the 13.3-inch model for $399.99.
Samsung touts the following specs: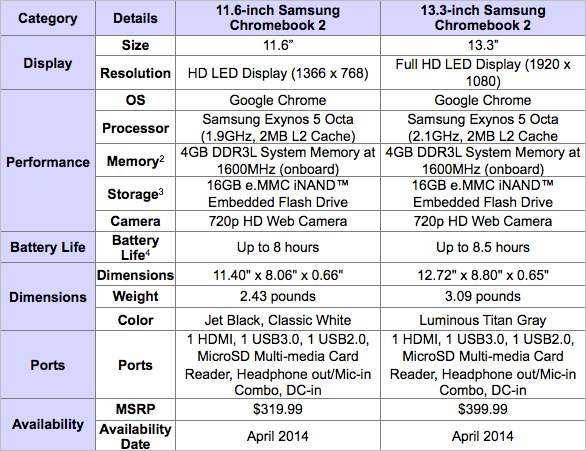 I am very excited for these new Chromebooks. While I had previously sworn off ARM-based Chromebooks due to poor performance, an Octacore variant with 4GB of RAM brings it back into the conversation. While Intel models are best for running Linux distributions like Ubuntu, ARM can run it too -- albeit with less available packages.
Are you interested in the Samsung Chromebook 2 computers? Tell me in the comments.