Black Menu for Google Chrome: an easier way to access Google tools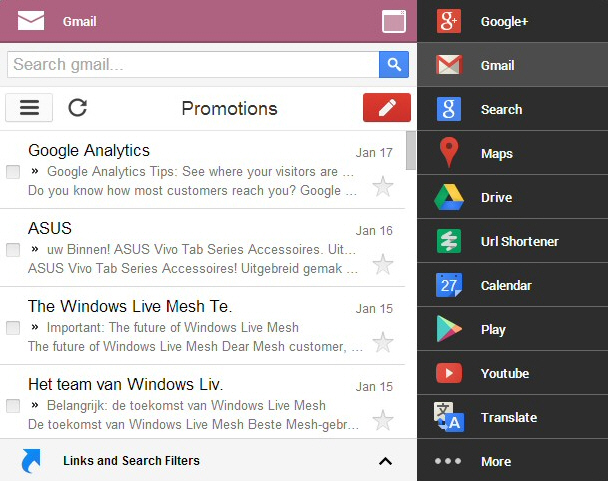 Google offers many different services, and switching between them isn't difficult. If you're at Google News, say, click the Apps icon top right and you'll see buttons for Search, Gmail, Drive, Calendar, Maps and more: just click whatever you need to launch that page.
This is simple enough, but not ideal. You need to be at one Google service before you can launch another; whatever you select replaces the current page, and there are at least two clicks required. If you're a Chrome user then Black Menu for Google could provide an easier solution.
The extension adds an icon to the right of the search bar, and clicking it displays a menu of Google tools: Search, Google+, Translate, Maps, Play, YouTube, News, Gmail, Drive and Calendar.
Just moving your mouse cursor over any of these displays a widget for that service: your Google Drive files and folders, a search page, the latest news headlines and so on. You can immediately use this to run searches, translate text, check Gmail or whatever else you want to do, without being taken away from the current web page.
If you need more frequent access to a particular service, then one click opens it in a new panel, where it can run alongside the main browser window.
Black Menu's service list can easily be tweaked to suit your needs. Remove Google tools you don't use, add others, reorder and reorganize the rest: it only takes a moment.
There are individual settings for most widgets, too. What would you like as your default Google+ page? Which News edition do you need? What's your preferred map type? Explore the Options page and you'll soon have everything set up correctly.
This isn't going to save a huge amount of time, of course, and there are plenty of other ways to speed up website and Google access (create some bookmarks, pin a few shortcuts, install the Chrome App Launcher).
Black Menu for Google is an elegant and intuitive solution, though, which will save you a click or two, and if you're a regular Chrome and Google user then it deserves a place on your search bar.