Linux desktop environment LXQt achieves first release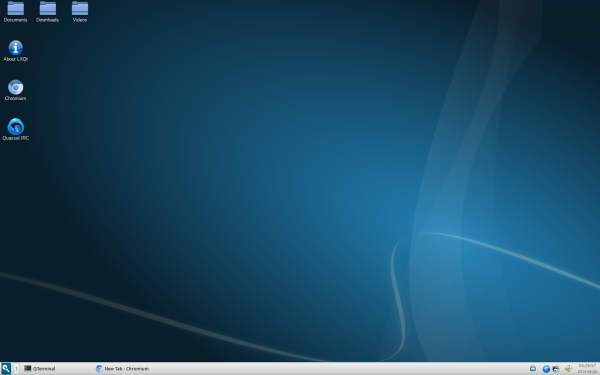 Besides being stable and versatile, Linux-based operating systems are very customizable too. You see, most distributions allow you to customize the UI by selecting different environments. While GNOME, KDE and Unity are a few of the popular environments, there are many others as well.
Two such less-known, but well-respected environments are LXDE and Razor-qt. Surprisingly, last year, the projects decided to merge. It makes sense, as they  both share the focus of being lightweight and functional. Today, the fruition of their merger goes public -- LXQt 0.7.0.
"The LXDE and Razor-qt teams are proud to announce LXQt 0.7.0, the first release of LXQt, the Qt Lightweight Desktop Environment. This beta release is considered a stable continuation of the Razor desktop. It has been almost a year since the Razor-qt project and the LXDE-Qt project decided to merge. Since then, the LXQt desktop has been under active development by 13 developers and dozens of contributors and translators", says Jerome Leclanche.
Leclanche further explains, "the merge has been praised by a lot of members of this community. The Maui Project has joined our efforts in creating a better Qt desktop and together we hope to focus less on our differences and more on what we share. The KDE Project has, in their efforts in building the modular KDE Frameworks, opened new doors for Qt developers working with desktop libraries. KF5 libraries may soon power some LXQt components! In the same spirit, I would like other desktops to consider this an open invitation to come and talk to us about how we could benefit from each other's work".
Luckily for some dedicated users, LXDE will not be immediately killed. However, the writing is on the wall that it will likely see its demise soon enough. It remains to be seen how official LXDE-based Ubuntu spin, Lubuntu, will handle this turn of events. Will we see an official LXQt Ubuntu version?
If you are interested in trying this love-child of LXDE and Razor-qt, you can try it immediately. Arch users can get the packages here, while Ubuntu users can get them here.
Will you try it? If you do, tell me how you like it in the comments.
Photo Credit: Lightspring/Shutterstock