Change your DNS server, MAC address and proxy with Smart DNS Changer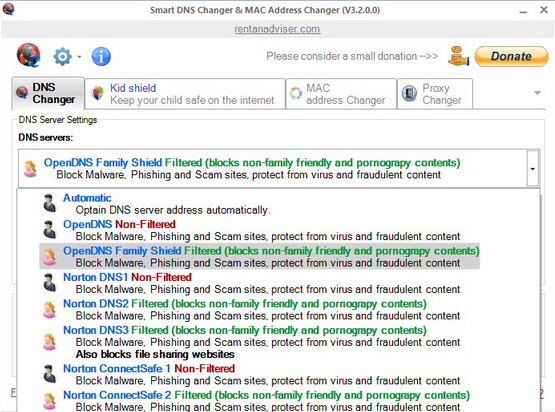 Changing your DNS servers can be a smart way to block phishing scams, protect your children from inappropriate websites, maybe even improve your browsing speed.
Figuring out how to do this can be a challenge, at least if you're a network beginner. Fortunately tools like NirSoft's QuickSetDNS and ChrisPC DNS Switch can help to simplify the process, and Smart DNS Changer extends the idea further with some clever touches of its own.
The program installs quickly and easily. Adware is a common issue with this kind of tool, but there were no problems, and Smart DNS Changer was running within a few seconds.
A straightforward tabbed interface opens at the DNS Changer. This lists several common DNS servers -- Comodo, Google, Norton, Norton ConnectSafe, OpenDNS, Yandex, both filtered and non-filtered -- along with a default Automatic option, and you can change your current settings in a couple of clicks. There are also boxes to enter DNS addresses manually, and buttons to open the Windows Network Connections window and Network Diagnostics applet.
Most of the competition stops there, but Smart DNS Changer goes a little further. A Kid Shield tab allows you to select different DNS servers for each user on a computer, and these will automatically be applied whenever they log on. You could use this to set a filtered DNS for your children, blocking non-family-friendly sites, while you're able to browse the web as normal.
A third tab provides a MAC address changer. If your internet connection is blocked because of your MAC address, choose the appropriate network adapter here and manually enter a new one (or click "Random MAC Address" to have one set automatically).
There's also a "Proxy Changer" tab, but this is by far the weakest section. There are no built-in lists of proxies, just a link to web page: you must follow that, find something suitable, then copy and paste it back into the Smart DNS Changer "Proxy" box. It works, but it's not exactly convenient.
Smart DNS Changer has some scope for improvement. It doesn't have a specific backup and restore option for your original DNS settings, for instance. And the list of supported DNS servers is currently hard-coded into the program, so there's no way to edit or extend it yourself.
The ability to set a different DNS server for each user is a major plus, though. The MAC address changer could be handy. And there are lots of thoughtful touches, from helpful text descriptions about each feature, to convenient links for Windows network tools. This is a crowded area, but Smart DNS Changer does more than enough to stand out, and we'll be interested to see where it goes next.