If you'd rather not own it, Leak it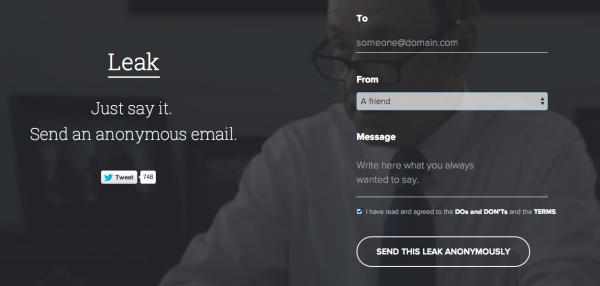 If you have something to say, you can either say it to a person's face or resort to Leak, a new cloud service that lets you send anonymous emails that will likely never be traced back to you if some common sense is used. I prefer the open approach, but I sense that today quite a few people will embrace the latter.
The possibilities are endless. You can send any sort of message through the service, as long as you don't push things too far. Leak would rather you don't threaten or bully people, encourage damaging behaviors, send "graphic" images or porn, spam or share private information. Of course, based on the anonymous emails I am seeing (some sent "leaks" are publicly shared on the site), there are users who will do the obvious: abuse the service and act immaturely.
Leak has been used to let a coworker know that "You're the sexiest and hottest manager I've ever had", "I do not wear panties today, and I'm in the same office" or "Being with you is like drinking my first can of Coca Cola". In a real-life scenario, a sexual harassment suit would probably follow (or, at the very least, a not-so-flattering remark would ensue), but, courtesy of Leak, a bunch of coworkers get to say what they have always had on their minds without showing their true colors.
But that's not every Leak user. Some took to the service to give a classmate advice ("I am one of your classmates and I think you are talented but you should do something else"), admit that they are using someone ("I am just hanging out with you because you know a lot of people. That's it), or let their feelings be known to a coworker ("We're officially enemies but I wanted to say that you did a great job on our last project"). (You can even subscribe to get the so-called "best leaks of the week".)

The recipient cannot know who sent the email from its details alone, because the message is sent through Leak's system. A leak I sent to myself, to test the service, has the subject From someone, anonymously and notifications at justleak dot it as the sender's address (obviously, with the signs in place). The sender can be identified in the subject as "a friend", "a coworker", "a family member", "a friend of a friend" and, like I've chosen, "someone". The key is hiding your identity well in the message to truly stay anonymous.