5 tips to make your browsing safe and secure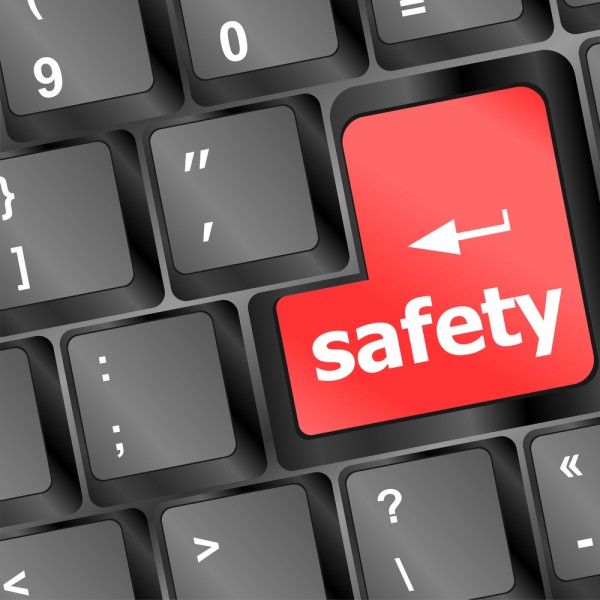 The internet has become as ubiquitous as air. You're connected at home via Wi-Fi, then you go out and stop by a cafe to grab a quick morning coffee and check your Facebook, then you come to the office, get all serious and send business mail to your colleagues. The internet gives us great freedom. But with that freedom comes great dangers and great responsibility -- you are responsible for protecting yourself on the web.
Every time you indulge into any sort of online activity, your data can be easily monitored and checked. The websites you visit receive your IP address, location, browser and operating system, screen resolution, ISP and more. You can check on what information you give away at stayinvisible.com. I have nothing against sharing this data when I do simple browsing. I am like Dutch windows without curtains -- doing nothing wrong, peep in whenever you want, I have nothing to hide.
But let's go back to you stopping by a street cafe and checking your Facebook. What network are you connected to? Right, a free Wi-Fi hotspot (well if it's not one of those indie cafes where they say "no, we don't have Wi-Fi, talk to each other"). Or let's say you are on vacation staying in this awesome hotel, drinking your Mojito, surfing online stores and deciding to buy this nice and useless...something. You enter the number of your credit card and buy it. The next moment you regret your actions, of course, because you don't need it. OK, whatever, you are on a holiday. Maybe you also won't notice a couple of hundred bucks disappearing a few days later from your credit card because your holiday plan included getting totally wasted every night. And you might never know why you received a bill for a purchase of some retro comic book collection a couple of days after you bought that...er... DVD rewinder. But hey, how did you connect to the global network back then? Oh yes, it was the hotel's hotspot. And looks like someone in the hotel lobby really wanted those retro comic books.
The difference between your finely tuned Wi-Fi at home (yes, the one which can now be compromised by a canine passer-by) and the one you ran across on a random street is that the latter network is a public one. This means that no matter what you do there (including purchasing, checking your business email, logging into somewhere) it remains open to the public. No one says it is dangerous by default, but it is the same as having a Dutch bedroom with curtain-free windows: not everyone passing by will peep in, but you should know you are not protected from such an awkward (or maybe not?) encounter.
So what should you do to prevent yourself from this uncalled-for information leakage? There are several methods to help you secure your data online. Each of them with its own reliability rate.
1. VPN
So the first on the list is VPN. VPN or Virtual Private Network technology allows anyone to use a public network (usually the Internet) to securely connect to a private network. VPN encrypts all your Internet traffic, replaces your ISP and routs all your traffic through the VPN server. Thus all your data is securely protected while you're online.
Not only is VPN awesome in terms of online privacy and security, but you can also benefit it in another way -- by accessing geographically restricted websites for example. If you don't want to miss the last episode of ..emm...The Simpsons? (ok, ok, anything trendier, I just don't watch TV shows so I don't know what to mention here not to receive that scornful look) while you are on a holiday on some exotic island, you can just use VPN. With it you can access the website and never see the "Sorry, this website is not available in your country yet" message. VPN masks your IP address and thus your real geographical location.
You can either use a free or paid VPN service. Paid services traditionally give a better performance, a wider range of features, and usually a better speed. The HideMyAss monthly subscription will cost you $8.33 per month if you take a six month subscription. But if you need a one-time VPN protection, you can opt for a free VPN service. CyberGhost installs easily and works OK. The drawback of all VPNs is that encryption usually slows down your network link. But it is definitely worth doing.
2) Proxy Servers
Using proxy servers is another way to protect your data online. Proxy settings are applied to your Internet browser and secure traffic only via the browser you are using. It is possible to use either Web-based proxies or manual proxy servers. Web-based proxies are easy to use: you just go to an online anonymizing website like Anonymouse or Kproxy, type in the address of the website you want to visit and off you go. Such proxies work well only if you need a quick peek into a specific website or a couple of them.
For a more serious activity choose a manual proxy server. To use it you need to configure your browser to connect to the proxy's IP address. You can choose the address from proxy lists like HideMyAss and ProxyNova. These are the most frequently updated and display all necessary information such as the country, speed, connection time, the time of last update and so on.
Pick a proxy server and you can now configure your browser to connect to it. The detailed instructions on what to do depends on the browser you use, but the general advice is to go to the settings menu, look for the connections or network option and enter the proxy server's IP and port. Here is how to do that in Chrome and Firefox.
So you don't have to change your browser's settings every time you need to surf anonymously, the good advice is to have a separate browser you use strictly for private browsing. A good choice would be Citrio. It is a Chromium based browser so it looks like Chrome. You can configure the proxy server settings in the browser itself (as described earlier) or you can use Citrio's built-in proxy manager. The browser saves all preconfigured proxy server settings, so you can create your own list of proxy servers that work best for you.
3) Connect to a Website via HTTPS
Websites that use HTTPS ("S" stands for secure) encrypt your activity, so anything you do on such a site is confidential and illegible to the prying eye. This tip has little to do with your own efforts but with your attention. You should simply check the URL of a website for "https://..." Not all websites have it, but no more than a week ago Google started encouraging the websites which do by showing them higher in search results. Try not to use the websites without "https://..." when using a public network.
What you can do here is download HTTPS Everywhere, an add-on that will force an encrypted connection on many popular sites. You can also configure HTTPS for the website of your choice. But beware that some sites just won't open with it. The extension is available for Chrome and Firefox and works with Windows, Mac, and Linux.
4) Basic Security Configurations on Your Computer
You can also take care of your online privacy by checking security settings on your computer. These include turning on your firewall, turning off sharing files, folders or printers. Both Windows and Mac come with built-in firewalls.
So if you have PC, all the above will be rather simple. You turn on your Firewall through Control panel options. To disable sharing (for Windows 8) go to Control Panel > Network and Internet > View network status and Tasks > Change advanced sharing settings > Turn off file and printer sharing > Save changes.
Precautions on Mac OS are similar. To enable the Firewall in Leopard open System Preferences > Security pane > choose the Firewall tab > select either "Allow only essential services" or "Set access for specific services and applications". Then click on the Advanced button and check the box next to "Enable Stealth Mode". This will hide your Mac from the prying eyes and generally it is not bad to keep this turned on at all times for constant protection. Don't forget to disable sharing as well: go to System Preferences > Sharing and be sure that File Sharing doesn't have a check mark by it.
5) Use Security-Focused Browsers
The final method to bolster your security is to use a privacy-focused browser. Marketing departments that are involved in promotion of that or another browser each have their own interpretation of what "privacy" or "security" is. But in terms of safe browsing while on public network only a few such browsers are worth trying. The best one is Tor browser. Tor is one of the easiest anonymous tools. When using Tor for browsing you don't get plugins, your traffic is automatically encrypted, and you always remain anonymous while on the web. You can check it yourself by entering the aforementioned Stayinvisible.
You can also try options like Epic browser which has a one-click built-in proxy. The difference from the Citrio browser mentioned earlier is that you don't have to configure it. It is handy for the cases when you need a quick peep on some website or another and you don't want to reveal your real IP address. But the drawback is that you cannot choose the country of your virtual IP address, or the speed of connection, therefore Epic won't do for accessing geographically restricted websites or when you want to pretend to be a user or visitor from a specific region or country.
You can also take some minor and very basic safety precautions that will contribute to your overall privacy even when you are not on a public network. These include using the latest versions of your browser and installing software updates as usually they have the latest bug fixes including those for your privacy. When you are in a coffee shop or airport, don't forget to verify the exact name of a network as some hacker can set a rogue hotspot that is sure to have a similar name and work just as well too. But at the same time your emails, site logins and passwords and all your activity will be routed through the hacker's network. You should also make sure your computer or device is not set up for automatic connection to unknown Wi-Fi networks. This way you'll be sure you're not connecting when you don't want to.
If you practice at least half of the above tips, you are sure to enjoy a long and happy life online.
Photo Credit: fotoscool/Shutterstock