File sharing site RapidShare is no more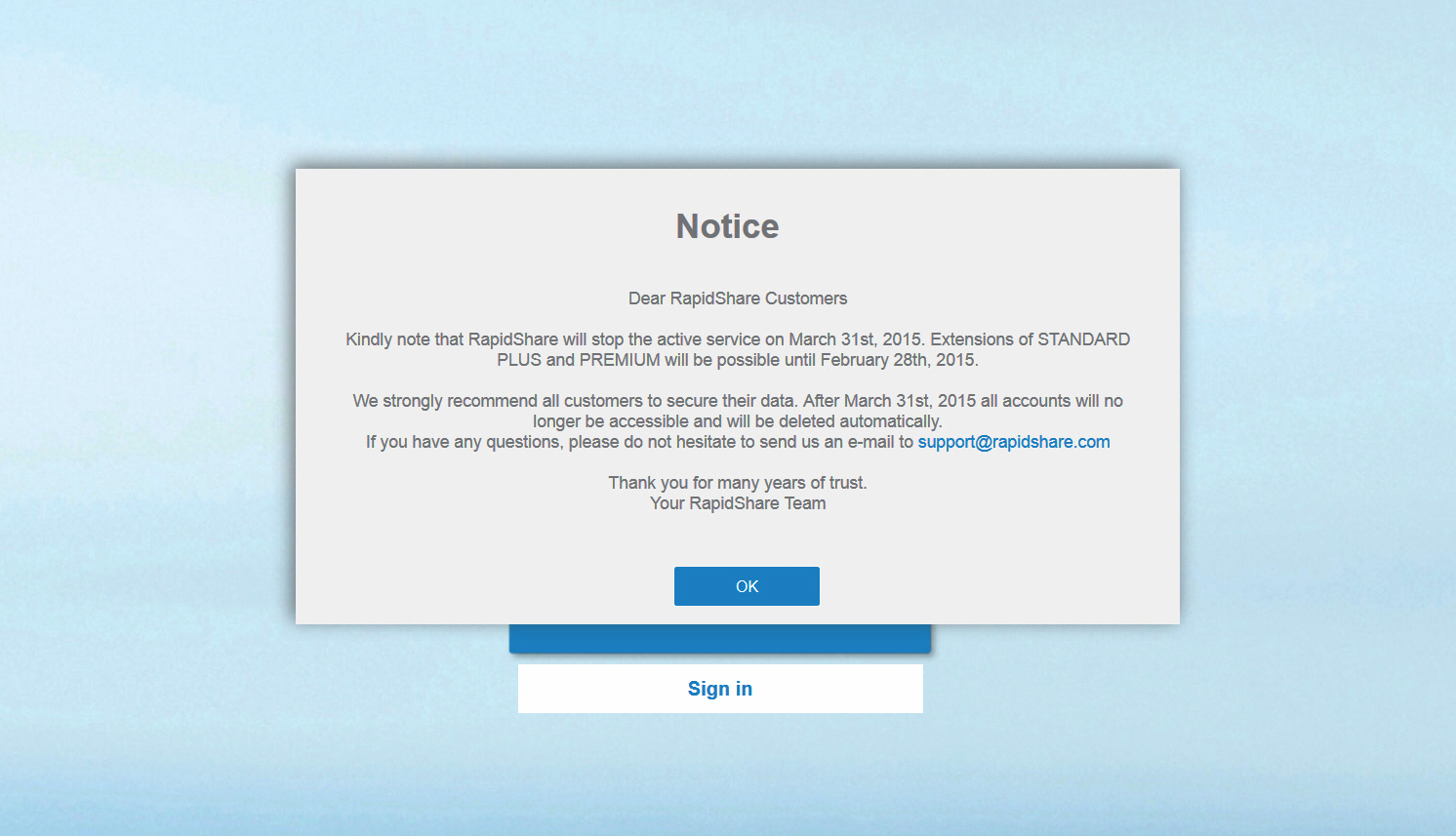 Things were seriously rocky for file sharing sites after MegaUpload was raided and shutdown three years ago. Several other sharing sites voluntarily closed their doors shortly after to avoid suffering the same fate, but since then it's been relatively calm and business as usual among file sharing services.
So it's a bit of a surprise (albeit not a massive one) to hear that Switzerland-based RapidShare, one of the first file hosting and sharing services on the Internet, is to shut down next month.
RapidShare launched in 2002 and has undergone a few changes over the years, including -- in the wake of MegaUpload being shut down -- making more of an effort to clamp down on people sharing illegal content through it.
The site hasn't been doing well in recent years though, and shut down its free service, increased its prices, and let a large portion of its workforce go last year, but even so the final nail in the coffin is a bit of a shock.
If you visit the site now, you will be greeted with a message stating:
Dear RapidShare Customers

Kindly note that RapidShare will stop the active service on March 31st, 2015. Extensions of STANDARD PLUS and PREMIUM will be possible until February 28th, 2015.

We strongly recommend all customers to secure their data. After March 31st, 2015 all accounts will no longer be accessible and will be deleted automatically.
If you have any questions, please do not hesitate to send us an e-mail to [email protected]

Thank you for many years of trust.
Your RapidShare Team
So, that's it. After March 31st, all of RapidShare's user accounts and data will be deleted and the site will be consigned to history.
Did you use RapidShare, and will you miss it?