Get organized with sChecklist's 'to do' manager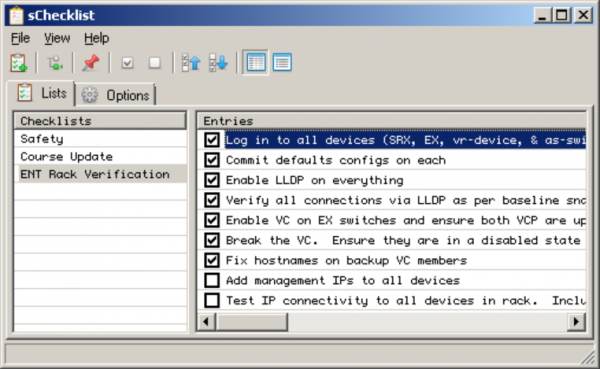 Task management software should be all about making you more productive, saving you time, but it doesn't always work out that way. Especially if the software is so complex that you waste most of your time just trying to figure out how it works.
SChecklist isn't that kind of package. You won't spend an age figuring out how to set up sub-tasks, time requirements, dependencies or web sync because it can't do any of that. It's just about creating lists of item names, with checkboxes, and there's absolutely nothing else.
Unsurprisingly, the program is extremely simple to use, right from the beginning. There's no installation, just unzip it into a folder and you get a single EXE which should run on anything from Windows XP up.
The interface has two panes. Your checklists appear on the left, and you can create as many as you need in a click or two.
Select a list and you're able to add as many items as you need. The standard ways of doing this are a little cumbersome (click an Add button, type a name, click OK , or double-click an empty line, type a name and press Enter), but sChecklist also has more convenient clipboard support. If you already have a list in Notepad, Excel or anywhere else, just copy and paste it here and it's ready for immediate use.
Once you're set up, there's very little else to do. Check a box once that item is complete; maybe change the sort order for long lists (move checked items to the top or bottom); save a list as text if you'd like to use it elsewhere, or just delete it when you're done.
If you need the program to always be available then you'll also appreciate its ability to minimize to the system tray (this has to be enabled from the Options dialog).
SChecklist has no fancy features, but that's only because it's focusing on core "to do" list basics, and in general it does that very well. If you need a simple to-do manager which works anywhere, online or off, then give it a try.