Collect, organize and share your text notes with NoteCase Pro Lite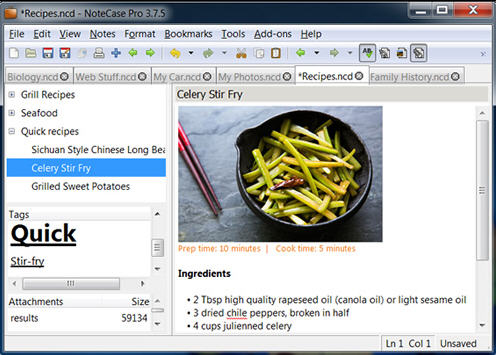 Notepad is a great tool for creating occasional ad-hoc text notes, but if your desktop is cluttered with TXT files, and you can't remember what's in any of them, it may be time to look for an alternative.
NoteCase Pro Lite is a free cross-platform (Win, OS X, Android, Linux) application which helps you get a little more organized. It allows you to enter text, apply simple formatting, insert images, and structure notes into lists or trees to build simple outlines.
The ability to insert clickable links which take you from one note to another is handy, and a bookmarking scheme and powerful 'Find' dialog make it easy to locate important information later.
As you'll have probably guessed from the name, NoteCase Pro Lite is the free version of a commercial product, and that means there are a lot of restrictions and limitations. Some of these are no big deal: you can't embed/ play audio files, for instance, but we wouldn't have expected that anyway.
Others omissions are more annoying, like the absence of spellcheck, bulleted lists and image resizing. The interface doesn't gray out features you can't use, either, so you'll quickly become very familiar with the 'can't do that in this version! (click here to Buy Now)' dialog.
One unusual feature you do get here is the ability to import data from more than 30 file formats, including Evernote, XMind, TreePad, Tomboy, FreeMind, MindManager and more -- great if you need to migrate your data from some other application.
Documents may be exported for sharing with others, too. There's only support for a few formats -- TXT, RTF, OPML, HTML, a scattering of others -- but you do get some control over the results, so for example exported HTML files can display your notes in their original tree form.
Overall, NoteCase Pro Lite's restrictions are an issue, but if you need to import data from other applications then it's still a good choice, and upgrading to a commercial build gets you a lot more power for a relatively low price (anything from $5-$75).