Minecraft is coming to Microsoft HoloLens, and it looks incredible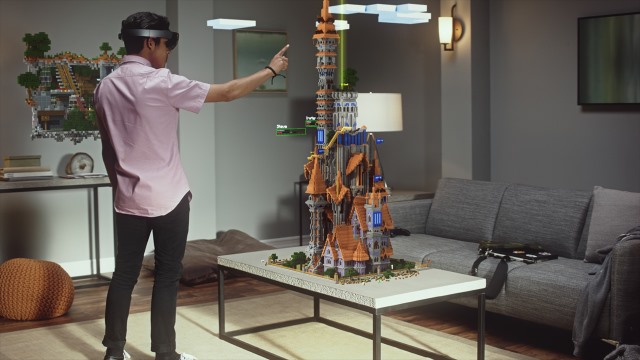 It has been a few months since we first heard about HoloLens, Microsoft's foray into holographic virtual reality. We've already been told that the platform will be able to run Windows apps in 3D, but -- let's be honest -- what people are really looking forward to is the potential for games. Today at E3, Mojang demoed the upcoming HoloLens version of Minecraft.
This is a game that has proved phenomenally successful, and the preview showed off today looks nothing short of incredible. This is a game that is all about the third dimension, and truly takes advantage of what HoloLens has to offer in this department.
Lydia Winters from Mojang announced that HoloLens will include out-of-the-box support for Minecraft. This means that the game can be used in one of two ways -- either projected onto a flat surface such as a wall, or enjoyed in full, immersive 3D as you build the world around you in your living room.
It's the 3D interface that will undoubtedly prove the most popular, but it's easy to switch between the two modes. The HoloLens version of the game can be voice-controlled, but it will be possible for HoloLens gamers to play alongside those playing the regular version. Flying through the virtual world in three dimensions opens up the opportunity to leap into the air or burrow underground.
There's not yet any indication of when we'll be able to get our hands on Minecraft -- we still don't know exactly when HoloLens will be unleashed.