Microsoft now uses Windows 10's Start menu to display ads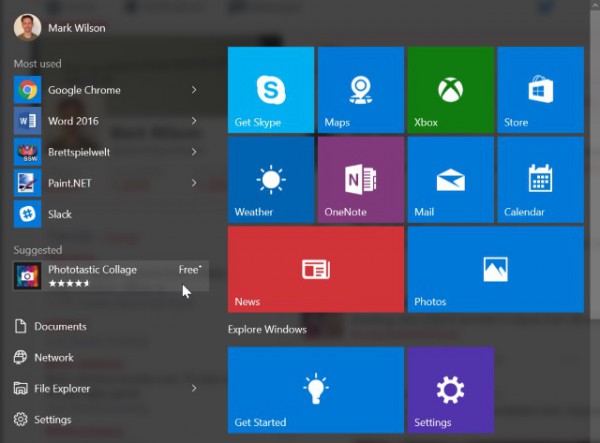 We've all become used to the idea of ads online -- it's something that has become part and parcel of using the internet -- but in Windows? If you've updated to build 10565 of Windows 10, you're in for something of a surprise: the Start menu is now being used to display ads.
We're not talking about ads for Viagra, porn, or anything like that, but ads for apps. Of course, Microsoft is not describing them as ads; 'Suggested apps' has a much more approachable and fluffy feel to it. Maybe. This is a 'feature' that's currently only being shown to Windows Insiders, but it could spread to everyone else. Will it be well-received?
Seemingly in a bid to use every pixel of the Start menu, nestled between your list of most-used apps and the Documents/Network/etc links, Microsoft has crowbarred in a new Suggested section. In my case, Microsoft decided that I might be interested in a free app called Phototastic Collage (I'm not). Clicking the suggestion, unsurprisingly, whisks the user to the Store to download said app.
I find it hard to imagine that many people will welcome the appearance of these ads (wrap them up as helpful 'suggestions' all you want, Microsoft, they're still ads at the end of the day). On the plus side, it is possible to switch off the feature -- just right click the suggestion and you can opt to hide a particular app, or disable all future suggestions.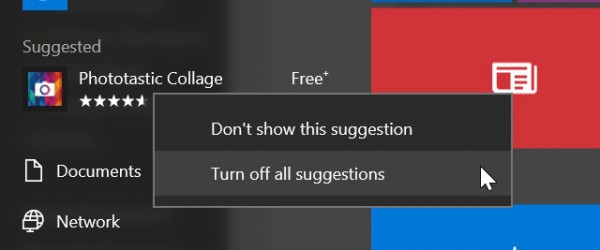 You can also opt out of suggestions by heading to Settings > Personalization > Start and toggle the Occasionally show suggestions in Start setting.
We've contacted Microsoft to find out a little more about the decision to start display app suggestions in the Start menu. In particular, we were interested to learn whether user data is collected to better tailor suggestions (possibly opening up privacy concerns), and whether ads for paid-for apps will be displayed as well as those for free downloads.
How do you feel about the Start menu being used as an advertising billboard? Is this the price we're expected to pay for Windows 10 being free?