More 4K content on the way to your TV very soon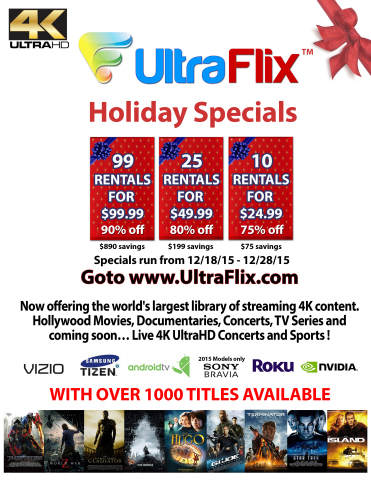 2016 is shaping up to be the year of 4K. Some is already available and much more is on the way, and there is a growing number of TVs that can handle it. For those purchasing a new set in the near future it is a prudent move to future-proof and be ready for what is coming.
Now UltraFlix is announcing its plans to provide a lot more content in the way of movies, TV shows and concerts, all using this new technology. The company boasts more than 1,000 Hollywood pictures as well as IMAX documentaries.
There is the obvious catch -- you have to have the capability to watch at this resolution. TVs from Samsung, Vizio and Sony will all work. Users can also utilize the new Roku 4 set-top box.
"4K TVs are slated to be one of the hottest consumer electronics purchases this holiday season", says Aaron Taylor, NanoTech's Executive Vice President of Sales & Marketing. "As a special thanks to all the 4K TV early adopters, we're providing them an economical opportunity to fill their UltraFlix stockings with a vast selection of stunning 4K content at a fraction of typical rental fees".
Of course this isn't free -- customers can pick up ten movie rentals for $24.99 or 25 rentals for $49.99, with the latter being the better deal in the long run. You'll also get some free content in this deal.