Disable Windows 10 upgrade prompts with GWX Control Panel 1.7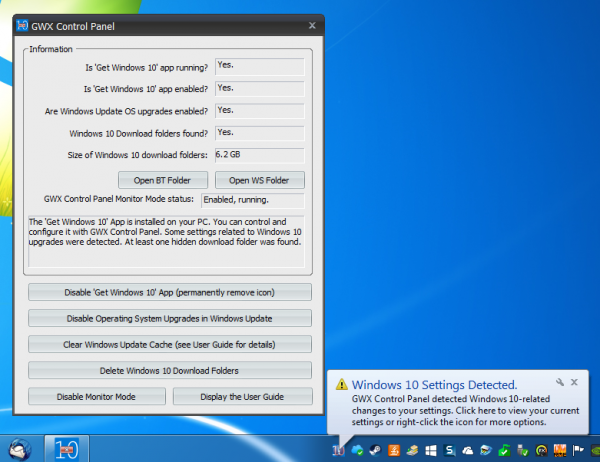 Windows 10 is a solid update with some excellent new features, but if you're happy running Windows 7/8 then the constant "Get Windows 10!" alerts are probably getting annoying.
Fortunately you can disable them in seconds with the free GWX Control Panel, which has just been updated for even more reliable and long-lasting results.
Launch the program and it displays various details about your system status. You'll see whether the "Get Windows 10" icon app is running and/or enabled, if automatic Windows 10 upgrades are allowed, if you currently have a hidden Windows 10 Download folder with installer files, and more.
If the "Get Windows 10" app is on your system then you'll find a button to disable it, or at least remove the icon from your system tray. (You can restore it later with a click.)
A second option can prevent all automatic Windows 10 upgrades. Don't worry, this is intelligently implemented – you'll get regular Windows updates as before.
Microsoft has released patches which restore these settings, associated programs and their scheduled tasks, but GWX Control Panel 1.7 now includes a "Delete Windows 10 Programs" option to prevent this from happening.
If you still find the "Get Windows 10' icon returns, an optional "Monitor Mode" tracks any related Windows 10 upgrade settings, and raises an alert if something changes.
GWX Control Panel 1.7 also provides new information and control over your Windows Update settings, and has been optimised to reduce its resource usage.
Best of all, every part of the program is documented in extreme detail. This isn't like some of the Windows 10 privacy tweakers, where you click a button and have little idea what's happening: the developer explains just about everything in a comprehensive User Guide.
GWX Control Panel is a free tool for Windows 7 and 8.