Opera 36 targets Microsoft Edge users and introduces major UI improvements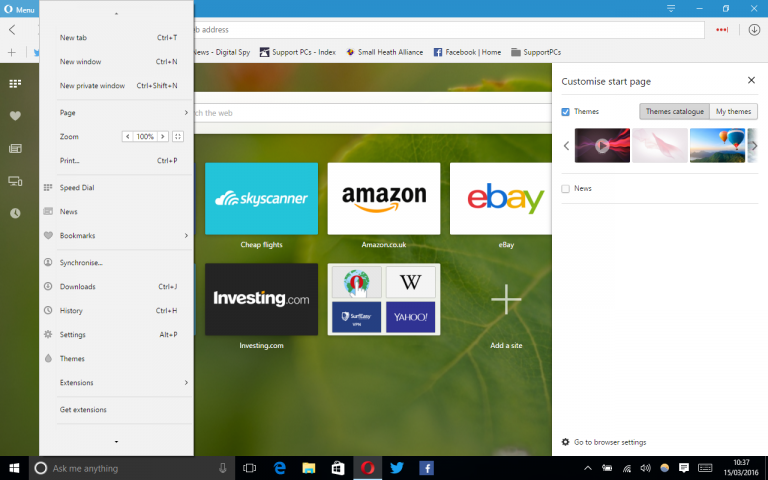 Opera Software has unveiled Opera 36 FINAL, a major new release of its desktop web browser for Windows, Mac and Linux PCs. The latest build firmly targets users of Windows 10, with Opera claiming that "surfing with this platform [Opera] can be much better than the one offered by its default browser, Microsoft Edge".
To that end, version 36 has redesigned its UI to more closely resemble modern apps found in the Microsoft Store, while Opera is keen to stress it's better integrated native Windows 10 features than other rival browsers.
Opera 36 debuts with a refreshed start page, optimized for widescreen displays. Its navigation panel has been moved over to the left-hand side of the screen to provide more horizontal space, while users can now easily switch themes or change language settings for news via a button in the top right-hand corner of the window.
The Windows build implements a new color scheme that changes across the app to match with the system style. Users must navigate to Settings > Browser to enable this scheme by ticking "Show system color on top bar" under "User Interface".
The app has also added the same fullscreen icon found in other store apps to heighten its modern app-like credentials.
Opera 36 also promises improvements for touch input -- tapping the Opera menu button, for example, produces a menu with larger buttons to make it easier to use. It also increases the size of toolbar items and context menus when touch is used.
Opera is keen to highlight the fact the browser now boasts a similar UI to Edge while retaining advantages found in other browsers – such as support for extensions. Indeed, it goes further to claim superiority over rival browsers through better integration of native features such as notifications.
Opera 36 FINAL is available now as a freeware download for Windows, Mac and 64-bit Linux users, with the Android version due imminently -- the beta recently debuted a new tab switcher, web apps discoverability and support for Web Bluetooth, but it's unlikely all (if any) of these features will be pushed to the final release. Also available are Opera Mini for Android 15.0 and Opera Mini for iOS 13.0.