Evernote 6 for Windows marks evolution rather than revolution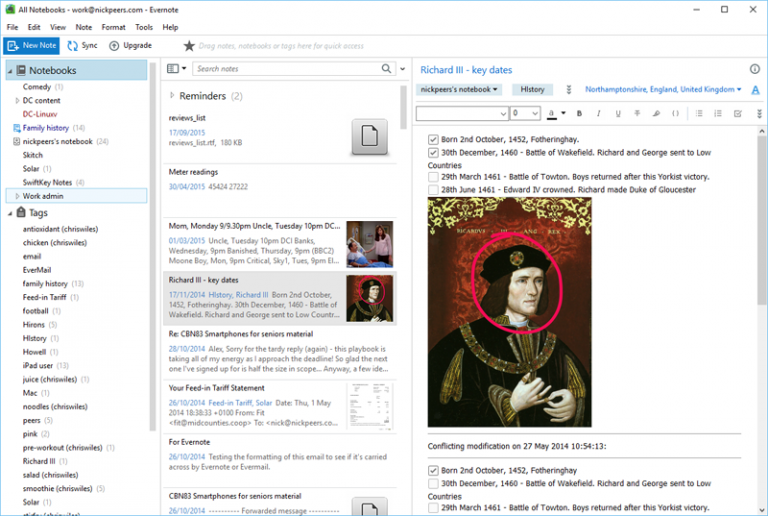 UPDATE: Evernote has unveiled Evernote 6.0.4, a major update of its desktop client for Windows users.
The new release sees another user interface revamp, plus focuses on refining existing tools rather than introducing major new features. Version 6.0.4 opens with support for High DPI displays, and rolls out various improvements to the Assisted Search tool. This includes moving the Search bar to the top of the note list, providing more detailed descriptions of the search results and the extension of the tool to cover the user's entire account, with options for expanding the search to include recently deleted notes as well as general refinements.
The user interface has also been overhauled -- now predominantly white, it's been redesigned to provide cleaner navigation and more useful tools for organizing data. The UI has also been optimized for touch screens with large native note scrollbars.
Notebooks and tags can now be directly accessed, created and deleted from the left-hand pane, which can be minimized to free up screen real-estate elsewhere. Users also gain the ability to define notebooks and tags by color (right-click to do this) for easier identification in the left-hand pane.
Access to previously trashed notes has also been improved.
The Note Editor has also been tweaked, with the note title now permanently visible, and related notes and tags more accessible. A code block has been added to the editor and users can now toggle the formatting bar on and off.
Business account users now see their personal and business notes visually separated out, with the ability to choose what's displayed. Mixed note lists have been dropped. Keyboard shortcuts make it quick and easy to toggle between personal and business mode.
The new version also comes with the promise of increased stability and performance -- search in particularly runs much quicker. One specified fix sees the note title no longer clearing itself unexpectedly.
One feature that appears to have been removed is Atlas view -- now clicking a location in a note opens Google Maps in the user's web browser.
Evernote 6.0.4 is available now as a free download for PCs running Windows XP SP3 or later. Also available are clients for Mac, iOS and Android.