Facebook Messenger gains Instant Video live broadcasting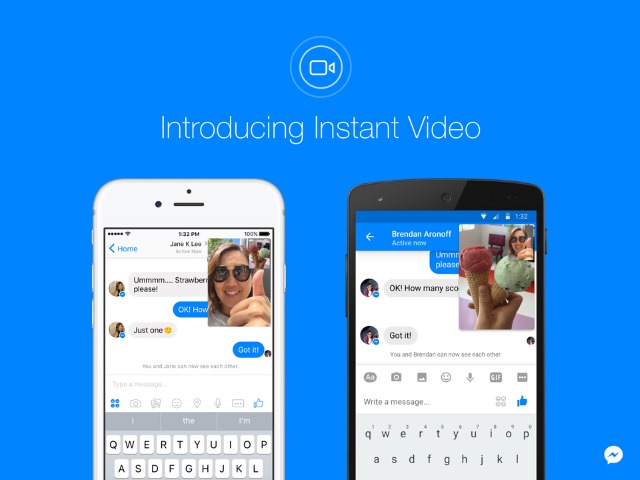 Facebook, like Twitter, is going all in on video. The social network's latest move is to bring video to its second greatest love -- Facebook Messenger. You'd be forgiven for thinking that this is not exactly new, and you'd be right.
Facebook Messenger has included a video calling option, but Facebook is concerned that this is being reserved for 'special occasions'. Instant Video is an extra new feature that is designed to make it easier to show things that can't be properly described in words, or even static pictures.
The feature launches today to let "you to put a smile on the faces of those people who matter most in your life" -- or to send more animated versions of dick pics (let's be honest, it's going to be used in this way...), the choice is yours. Of course, that's not Facebook's suggestion. The company proposes a few scenarios in which Instant video might prove useful:
Sometimes you want to ask a friend's opinion on a pair of shoes you want to buy, weigh in on what ice cream flavor they should bring home, or just want to see your BFF's reaction to your witty message when you're in a place where you can't actually talk live.
Facebook explains that using the new feature is very simple, and can be a one- or two-way process:
First make sure that both you and your friend have the latest version of Messenger for either iOS or Android. Then, while both of you are viewing an open Messenger conversation, tap on the video icon in the top right corner to start sharing real-time video. Audio is off by default because sometimes you just need to see something, not hear it -- but sound can easily be turned on if you choose. Your video will float over the active text conversation that you can continue while viewing the video. Your friend can watch your video stream and share a video back if they decide.