HP unveils fashionable Pavilion Wave home desktop and modular Elite Slice workstation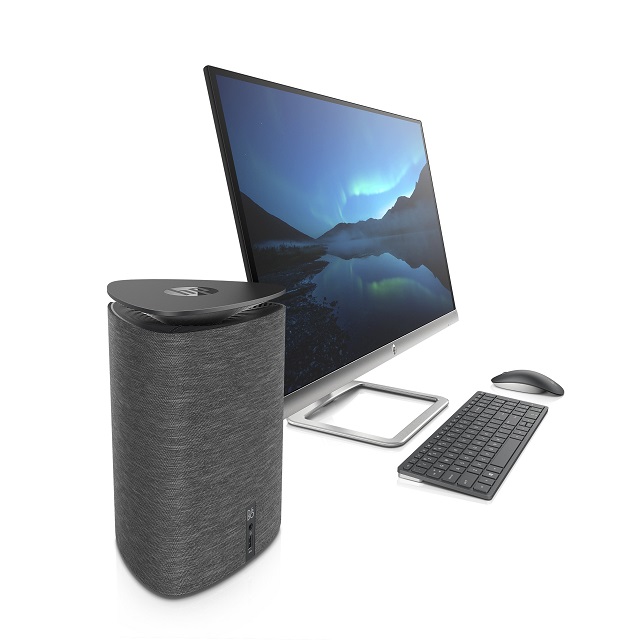 Windows laptops and tablets are constantly improving. They get thinner, faster, and more beautiful every year. But what about home desktop PCs and business workstations? Save for some wild-looking gaming rigs, these desk-bound and often-rectangular PCs have become quite stagnant. Quite frankly, their conservative designs can stifle inspiration.
HP is looking to change this. With what the company calls a 'reinvention', it unveils the fashionable Pavilion Wave home desktop PC and modular Elite Slice business workstation. While calling these machines a desktop PC reinvention might be a bit of an exaggeration, they are certainly interesting.
Pavilion Wave
For home users, the Pavilion Wave should be quite attractive -- literally. It has a trendy appearance, and would look wonderful in either a home office or living room. It is sort of reminiscent of Apple's latest cylindrical Mac Pro -- that is not a bad thing.
"The HP Pavilion Wave features a compact, space-efficient 360-degree design and is 85 percent smaller than traditional tower PCs at 6.81in x6.62 in x 10.29in which is about the size of a gallon of milk. The triangular form is comprised of premium finishes and the woven fabric is engineered for acoustic transmission coupled with the parabolic reflector with an integrated speaker on top of the PC for a superior sound experience. The 360 degree Multi-directional Reflective Audio delivers a crisp audio profile at all frequencies with the speaker centered in the device for amazing sound whether in mid, high or low ranges", says HP.
The design is not form over function, however. HP's engineers put some real thought into the design beyond the aforementioned audio playback. The company explains, "the triangular design is engineered to house three main zones for components: the motherboard on one side, the hard drive on the second side and thermals on the third side, which uses heat pipes to extract heat from the motherboard and the graphics card and out the top of the PC".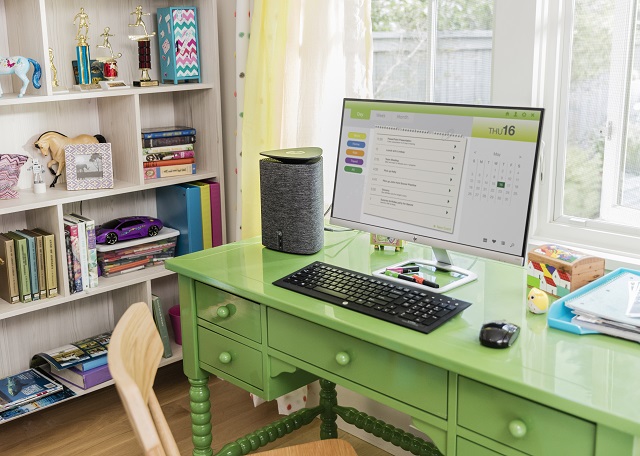 HP shares the Pavilion Wave specs below. Pricing starts at $529.99. It will be available for purchase on September 16.
Operating system: Windows 10 Home
Processor: 6th generation Intel Core i5-6400T processor
Memory: 8GB DDR4-2133 SDRAM memory (1x8 GB)
Hard drive: 1TB 7200RPM SATA hard drive
Solid state drive: 128 GB PCIe NVMe M.2 Solid State Drive
Graphics: Intel HD Graphics 530 (optional AMD R9 M470 for modest gaming)
Mouse and keyboard: HP Premium Lifestyle Wireless Keyboard with volume control and optical mouse
USB ports: 4 (3 x 3.0 , 1 x USB 3.1 Type-C)
Wireless: Wireless LAN 802.11a/b/g/n/ac (1x1) and Bluetooth 4.2 M.2
Warranty: 1-Year limited Hardware warranty
This slideshow requires JavaScript.
Elite Slice
On the business side of things, the Elite Slice (starting at $699) is very intriguing. The workstation itself is quite diminutive, but it can be expanded with stackable (wire-free) modules.
For now, there are just two available modules. The first is an optical disk drive (ODD) module which does both CD and DVD read/write. The other is a Bang and Olufsen Audio module which provides improved sound quality and speakerphone capabilities. A VESA mount can be purchased as well.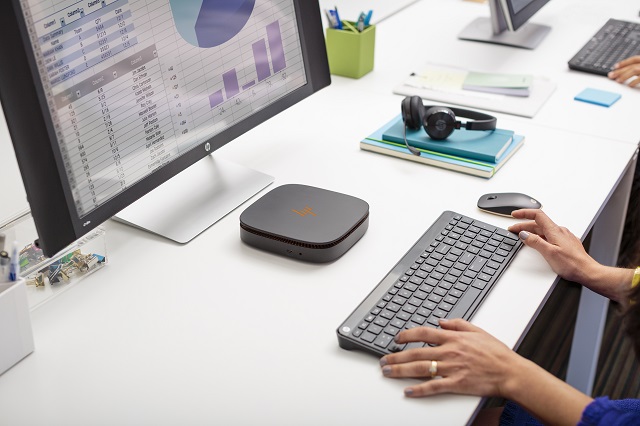 Speaking of speakerphones, HP is also selling a special variant of the Elite Slice with the added "for Meeting Rooms" moniker. The 'Elite Slice for Meeting Rooms' (starting at $949) includes integrated specialized touch controls on the lid -- ideal for -- you guessed it -- meeting/conference rooms!
The Elite Slice can be configured with various Skylake processors (Core i3, i5, or i7) and up to 32GB of DDR4-2133 RAM. There are also many SSD capacities from which to choose, in either SATA or NVMe interfaces. It too will be available for purchase in September.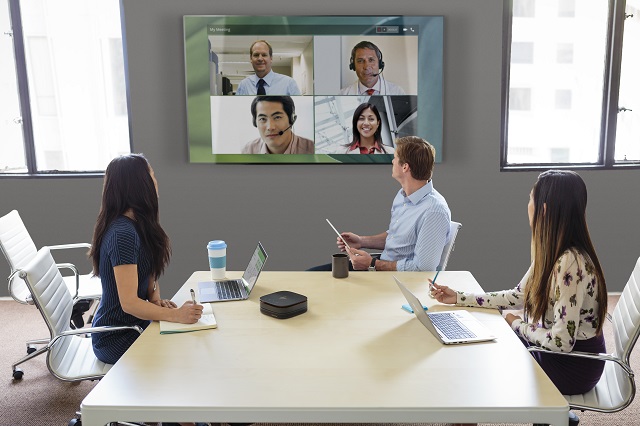 It features the following ports:
1 USB 3.1 Type-C (charging)
1 USB 3.1 Type-C (alternate mode DP)
2 USB 3.1 Type-A (1 charging)
1 DisplayPort
1 HDMI
1 RJ-45
1 headphone-out/microphone-in combo
This slideshow requires JavaScript.