Apple 'Swift Playgrounds' coding app now available for iPad tablets running iOS 10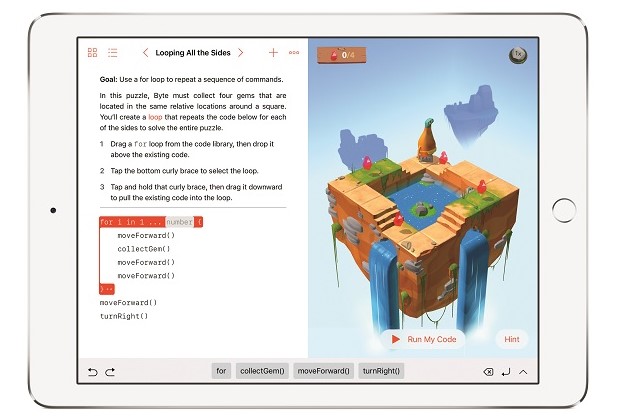 Today has been a great day for Apple device owners. The company released iOS 10 for compatible iPhone, iPad, and iPod touch devices. In addition, tvOS 10 was released for Apple TV, while watchOS 3 was made available for Apple Watch. All of these operating system upgrades are impressive, making the Apple devices even better.
Not everything released by Apple today is operating system related, however, as the previously announced Swift Playgrounds app is released too. This iPad-only app is designed to help young learners to code. With that said, there is no reason why coding beginners of all ages can't get it on the action. After all, the educational app is totally free -- what do you have to lose?
"Swift Playgrounds includes Apple-developed programming lessons that guide students through a series of challenges and puzzles to guide three on-screen characters through an immersive graphical world as they learn core coding concepts, like issuing commands, creating functions, performing loops and using conditional code and variables. Apple will also regularly release new standalone challenges so users can continue learning new skills", says Apple.
The iPhone-maker further says, "Swift Playgrounds also features built-in templates that users can modify and build on to create their own programs with graphics and touch interactions. They can then share their creations with friends using Mail or Messages or even by posting to the Web. And since Swift Playgrounds uses real Swift code, projects can be exported directly to Xcode and ultimately be turned into full-fledged iOS and Mac apps".
While not every career requires coding, giving all people the opportunity to learn the Swift programming language can never be a bad thing. Not to mention, the logic aspect of coding can be used for improved problem solving and critical thinking in non-technical jobs.
If you want to try 'Swift Playgrounds', you can get it now from the App Store. Keep in mind, you must be using any iPad Air, Pro, or mini running iOS 10.