Netrunner Core 16.09 'Avalon' Debian-based KDE Linux distro now available for download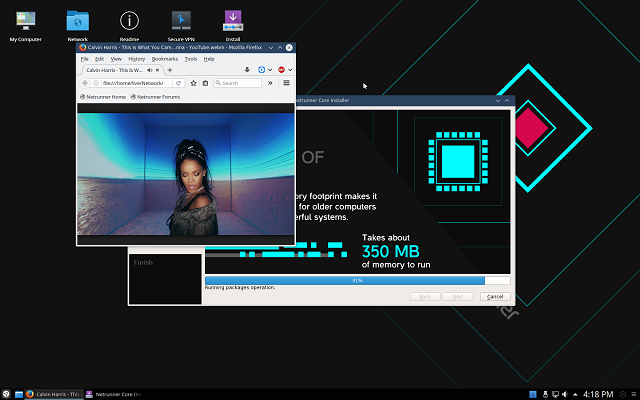 The gift and curse of desktop Linux-based operating systems is the ability to change the desktop environment. On one hand, having the choice to pick your favorite user interface, such as Unity, GNOME, or KDE Plasma, can be a huge positive. On the other, this also creates fragmented experiences between Linux users.
If you are a fan of KDE Plasma, there are plenty of quality distributions available. The overall best for home users, however, is the wonderful Netrunner. You'd be hard-pressed to find another KDE-focused distro with such care and focus on the user experience. Today, a specialized version of the Debian-based operating system, called Netrunner Core, becomes available for download. This pared-down OS is designed for lower-end systems, and there are images for both x86 and ARM.
"Netrunner Core (like its upcoming big brother Netrunner Desktop) is based on Debian Stable with the latest Qt, Plasma, Framework and KDE Applications. CORE is the streamlined version of the upcoming full Desktop version, and therefore provides only a few essential applications on top of the latest Plasma Desktop", says The Netrunner Team.
The team further shares, "besides the 64bit ISO version, we also provide Netrunner CORE as an ARM based image for the Odroid C1 Microcomputer. It is streamlined down to approx. 350MB memory usage and showcases that KDE Plasma is a great and responsive DE on any low-spec (arm or x86) computing device".
Based on Debian Stable (Jessie 8)
Provides latest KDE packages of: Plasma 5.7.5 + Frameworks 5.27 + KDE Applications 16.04 + Qt 5.7.0
NoVNC pre-installed and actived (simply open a browser and type in "live-pc:5900″, username:live/pwd:live to access Netrunner Core from your browser)
Plasma Services KCM: Easy to activate/deactivate Core Plasma Services, like Kwallet, Akonadi or Baloo
Simple Menu: A new menu that resembles ChromeOS for fast browsing the available applications
A reduced selection of pre-installed CORE apps, including but not limited to Dolphin, Firefox, Gwenview, Synaptic, Update Manager
If you want to try Netrunner Core, you can download the appropriate version here. If you do install it, please tell me what you think in the comments below.