LastPass is now available for free on smartphones, tablets and PCs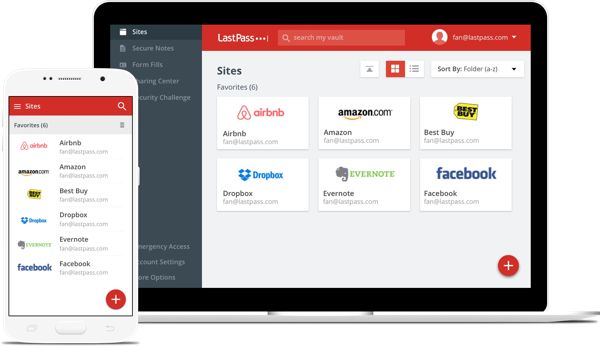 If you have considered LastPass in the past and deemed it too expensive it is now time to take another look at the popular service, as the password manager is finally offered for free across all types of devices it supports -- PCs, tablets and smartphones. Gone are the annoying limitations of before.
Previously, users who wanted to take advantage of the LastPass free plan were limited to syncing passwords only between devices of the same type -- for instance, only PCs. This was not only impractical, as few of us use only smartphones or PCs, but also a serious reason to give up on LastPass -- or free password managers altogether, for that matter. The move to a completely free LastPass is a big change in the right direction, however.
"In today's connected world, we believe the best way to benefit from the security and convenience of LastPass is to have it on all your devices. And because security is so fundamental, we want to offer a frictionless experience that makes it easy to connect safely and use strong passwords everywhere", says LastPass founder, VM and GM Joe Siegrist.
"Too many of us are still struggling to build a strong security foundation, at work and at home. So far in 2016, there were more than 1 billion passwords publicly leaked due to poor password practices. We want to empower our users to take back control of their online security, and no longer feel powerless against the next wave of breaches. The more convenient we make password management the better we will be able to solve this problem. We want our users to bring LastPass with them everywhere -- including the workplace because accessing the sites, apps, and services you use every day doesn't end because you checked in at the office", adds Siegrist.
Let's face it, if you didn't care about password managers before the chances are now you will at least consider trying LastPass. It is free, and certainly a much more practical option for using super-secure passwords than what you are using now. Not to mention that it is available on all the major platforms today, namely Windows, macOS, Linux, iOS, and Android -- and even Windows Phone and Firefox OS -- as well as all the popular browsers.
And if you are a paying customer you will have the option of saving a couple of bucks or embrace the new Premium plan. LastPass has not given up on the idea of making money. Even though the service is now free to use, to take advantage of premium support and some of its nicer features you have to shell out $1 per month to get to the Premium tier.
Without having to pay a dime, LastPass gives you unlimited device sync, a password generator, secure notes, two-factor authentication and some other basic features. But, the Premium tier unlocks a family sharing plan, which offers LastPass to up to five users, an ad-free experience, some fancier 2FA options (YubiKey and Sesame), priority support, LastPass for apps, desktop fingerprint authentication and 1GB of encrypted storage space in its cloud.
Personally, I think that what you get with the free tier will be good enough for most users, but even if you pay $1 per month you are still getting a hell of a lot of value for what you have to spend.