AOL Testing Next Generation AIM Client

BetaNews has learned that America Online has begun beta testing the next generation of its AOL Instant Messaging software called "Triton," which will replace the existing AIM client. Triton addresses user grievances while adding highly anticipated bells and whistles including tabbed messaging and chat logging.
As the first major overhaul to AIM since its inception, Triton introduces an entirely new, simplified user interface that adopts contemporary elements such as tabbed message windows to switch between different modes of communication. Users can also corral all chat sessions into a single, tabbed window dubbed "IM Catcher."
The Triton client imports features such as mini Buddy Icons from AOL's client software and contains several idiosyncrasies of its own like Flash-based animated smiley backgrounds that augment user personalization.
Underneath its new veneer, Triton has been completely rewritten from the ground up to support advanced communications services such as Voice over IP (VoIP) Internet telephony.
More specifically, AIM will directly connect with AOL's Internet Phone Service. Triton will not be able to dial out at this time, but that capability will arrive in a future iteration of the client.
Communication features are exposed through Triton's "Quicknote" dialog, which replaces the initial IM window and provides a snapshot of user information. Quicknote lists a variety of ways to contact a buddy and will be expanded with more options as new features are added in subsequent beta builds.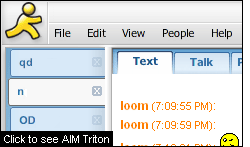 An AOL spokesperson told BetaNews that Triton will provide more seamless integration of communications options.
For instance, there will be no discernible difference between how AOL handles SMS text messages in comparison to PC-to-PC instant messages. AOL is applying that logic to other areas of the client and is taking a more intuitive approach to its chat and talk features. Users can click and drag buddies into multi-party conversations and find contacts to participate more easily through "Type down" searching in AIM's Buddy List.
Responding to a longstanding complaint from users, Triton will finally bring integrated message archiving to AIM. In the current beta, conversations are saved for reference until a user signs off, although full automatic logging is slated for addition once security issues are settled.
Answering another user grievance, AOL will pair down the number of preference options in AIM, taking what it refers to as a "smarter approach." A spokesperson said that the current AIM client was heavy with preferences because, "We couldn't decide one way or another."