Intel Premieres vPro Desktop Platform

As has been anticipated since last April, Intel today launched its effort to create a Centrino-like integrated technology platform around business desktop systems. The idea behind Intel's new vPro logo program is to encourage vendors to produce Core 2 Duo CPU-based desktop computers with motherboards utilizing the company's new Q965 Express chipset.
The Centrino program is generally seen as a sweeping success, not only provoking OEMs to produce notebook systems based on the Pentium M and its successors, but giving customers one name to remember when asking for a portable computer. Intel hopes to translate that success over to the desktop world, even though vendors and analysts alike report desktop systems constituting a lesser share of overall production as so-called "desktop replacement" notebooks take over.
While Centrino aimed for a platform based on customers' already-established criteria for notebook purchases, vPro will boldly introduce new technologies that most businesses haven't seen, and may not know they need.
Foremost among these is the company's new Active Management Technology (AMT). For the first time, this architecture separates the general computing components of a system -- the parts relegated to Windows or Linux control -- from a full-time management component, parts of which can be accessed through the network even while the general components are turned off, or even crashed.
If you can imagine how, in modern Internet architecture, the part of the network that provides connectivity ("layer 3") is functionally separated from the part that enables applications over the network to share and transport data ("layer 4"), AMT would create a similar functionality division within the motherboard.
Although Intel doesn't use this terminology explicitly, in effect, user services such as the operating system, applications and even the general BIOS are split from an underlying manageability layer. This layer will provide network admins with assets enabling them to reinstall crashed operating systems, restore installed system services, and detect impending failures before they happen.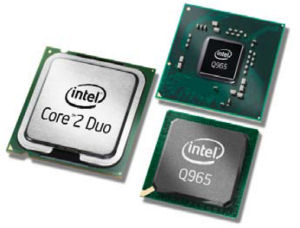 AMT will also create a kind of virtual "moat" between the part of the vPro computer that's directly connected to the network, and the applications that utilize network assets. This way -- at least for the time being -- an operating system cannot be directly vulnerable to network-based attacks. Intel calls this "network isolation," but it could be considered a more evolved version of a firewall. With AMT, what the user perceives as her computer is never really connected to the network.
While not a part of the Q965 Express chipset like AMT, Intel's Virtualization Technology (now abbreviated as "VT" for all platforms) is also incorporated into the vPro platform specification. This includes Intel's implementation of a Trusted Platform Module (TPM), which will enable computers and their components to authenticate themselves reliably within a network.
In this industry standard architecture promoted by the Trusted Computing Group, information transferred over a network can be trusted by a receiving component if the identity of its source can be authenticated by a component whose own identity cannot be spoofed.
Over the past few years, the development of TPMs has come under fire for, some say, giving vendors an avenue for locking consumers into using only brands or models that are considered "trusted," and also for possibly injecting digital rights management features into the core of the computer. But Intel has recently denied it will be using VT for any of these purposes, or enabling its partners to do so.
Still, it has refrained from introducing VT into chipsets or platforms targeted towards consumers and home users, in deference to their skepticism about its stated purpose.
Intel is also including its on-board gigabit network adapters and integrated graphics as components of vPro. This latter element remains the cause of some concern, as Intel has been feeling pressure to sell off some of its lesser performing businesses as part of its ongoing restructuring. It has already sold its handset architecture and media signaling divisions, which were purchased by Marvell and Eicon, respectively.
While Intel is arguably the leading manufacturer of integrated graphics, it's often considered a low-volume business, since systems with the technology are generally intended for either entry-level consumer systems or high-quantity business purchases, both of which fall under the "discount" category.
Some analysts say that if Intel goes against their advice and stays put in the integrated graphics business, it could find itself competing head-on against a newly combined AMD and ATI at a time when it could have had graphics powerhouse nVidia as a partner.
Intel says corporate purchasers should expect to see vPro-supporting software from Adobe, HP and Microsoft, among others, in the coming days. BetaNews will have more on the vPro platform as Intel makes new information available.