Dell CEO Resigns, Michael Dell Returns

Dell CEO Kevin Rollins, who on Monday stood on stage in New York City to accept a commemorative Windows Vista plaque from Bill Gates and Steve Ballmer, resigned abruptly on Wednesday, and will be replaced by the computer maker's former CEO Michael Dell.
Rollins joined Dell in 1996 and was appointed CEO in July 2004. During his tenure, however, Dell was unable to retain its status as the leading PC manufacturer due to increased pressure from Hewlett-Packard. The company also warned Tuesday that its fiscal fourth quarter revenues would miss analyst expectations.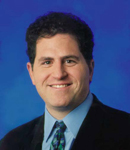 "Dell has tremendous opportunities ahead of it," Michael Dell said in a statement. "I am enthusiastic about Dell 2.0, which includes our plan to provide the best customer experience, build a strong global services business and ensure our products deliver the best long-term customer value."
Rollins has additionally resigned from Dell's board of directors. Michael Dell, meanwhile, will stay on as chairman of the company.
"Kevin has been a great business partner and friend," added Dell. "He has made significant contributions to our business over the past 10 years. I wish him much success in the future."
Dell's board of directors issued a statement of support for Michael Dell's return, saying it "believes that Michael's vision and leadership are critical to building Dell's leadership in the technology industry for the long term. There is no better person in the world to run Dell at this time than the man who created the Direct Model and who has built this company over the last 23 years."