Apple MacBook Fire Poses New Safety Questions

Apple finds itself in a peculiar situation after a MacBook in Australia catches fire, apparently from a malfunctioning battery. However, the battery was not on the list of recalled units.
The report, first posted on the Australian Mac enthusiast site MacTalk, indicates that the user awoke in the middle of the night to find the laptop on fire. According to witness accounts, before the fire started, a hissing sound and large amounts of smoke poured out of the device.
Damage was confined to the laptop along with the bookshelf it was placed on and some magazines nearby.
"Strange thing is, there was no symptoms like excessive heat or deformation of the battery or anything like that at all," the user 'mattyb' wrote. "I also checked quite a while ago to see if my battery was one of the recall units. It was not."
Apple did recall some 1.8 million Sony-produced batteries in August of last year due to safety concerns, saying they could overheat and catch fire in "rare circumstances." At the time, no incidents of fire were reported.
It is not immediately clear what Apple may do in response to the issue, as requests for comment went unanswered as of press time. However, the issue once again highlights the quality control issues in some laptop batteries produced by Sony, Apple's supplier.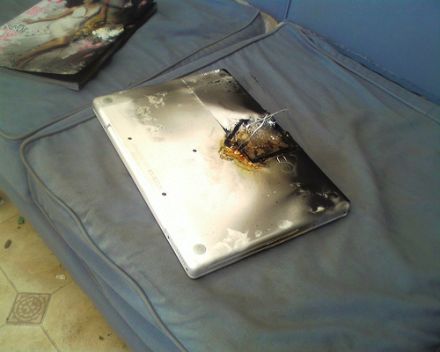 "We were damn lucky not to have a house burnt to the ground," 'mattyb' said of the incident. "I have been out for most of the weekend and this night was the only night I had it charging."