Ooma Launches $400 Free Phone Service

As one VoIP provider is laid to rest, another is born. Ooma today launched its long-awaited Internet-based telephone offering for consumers. While the company is entering into a crowded market, Ooma is hoping to entice customers with a promising offer: free domestic calls for life.
Compared to Vonage and other providers, Ooma's offer may seem too good to be true - and there is a small catch. In order to join the service, you must cough up $399 USD for the Ooma hardware, which requires a broadband connection. The device plugs into a standard phone and includes answering machine functionality.
In order to keep the service free, Ooma has taken a unique approach by implementing peer-to-peer technology similar to that used by file sharing networks. Instead of relying on standard telephone exchanges to route calls like Vonage, Ooma utilizes the telephone lines of other users whenever possible.
And even if most Ooma users disconnect their landline phone (although Ooma believes many won't in the event they need to dial 911), the network will make use of the upstream network bandwidth of other Ooma customers. In turn, the company can keep its bandwidth bills low and the service free of charge.
While it sounds like a promising idea, Ooma -- which has raised $27 million so far and is headed up by CEO Andrew Frame -- still faces an uphill battle to establish itself. Without many users, the patent-pending P2P technology Ooma built becomes useless. Thus, the company is seeding the United States with Ooma devices through an invitation program (users can invite three friends) before they officially go on sale in September.
In addition, it's not clear whether consumers will be willing to pay $400 up front in order to potentially reap the long-term benefits of free domestic calling. Because Ooma is new, its future still remains uncertain, and those early adopters could find themselves with an expensive box of hardware if the company goes out of business.
SunRocket, a voice over IP provider that announced it was closing down Monday, offered a $199 per year prepaid phone service. Customers who recently signed up have found themselves out of luck and out of cash, although rival providers have offered SunRocket customers a discount on service.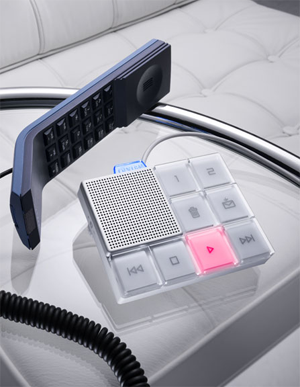 TiVo faced a similar hesitation among consumers upon launch with its offer of a lifetime subscription. Many users chose to pay on a monthly basis because of skittishness over how long TiVo would be around, although long-time users may be regretting that decision 7 years later. Still, Ooma currently offers no monthly option, since its costs must be recouped in the hardware.
Ooma does have a revenue strategy behind its devices, however; the company will sell $39 "Scout" devices that link up to the main Ooma hub and enable customers to extend the service to phones in other parts of a house. Of course, many telephones these days now support multiple handsets and render the Scouts unnecessary.
In addition, Ooma will charge for international calls with prices starting at just a few cents. Customers enter their credit card information online and are billed automatically for the calls they make. Skype offers a similar service for customers who wish to use their PC to make calls, and the business was successful enough to entice eBay to buy it.
If the idea of free phone service for life (or at least the life of Ooma) alone isn't enough to bring on customers, Ooma has a backup plan: Ashton Kutcher. The actor has taken a position as creative director of the company and will create a viral video series in order to promote Ooma.