Two New Sidekicks for T-Mobile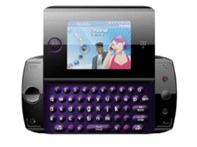 T-Mobile's growing line of Sidekicks now includes the LX and the Slide, produced by Sharp and Motorola respectively, to be made available in coming weeks.
Sharp's LX claims to be slimmer than the Sidekick 3, though spec sheets reveal they share the .9" thickness when closed. Its weight, however, has been knocked down from the previous 7 ounces to a much more manageable 5.7. LX has a 3-inch WQVGA display that is thinner and mounted on an improved swivel joint. Its entire outer edge can be set to glow at varying colors and speeds as a status indicator. Beginning October 17th for existing customers, the LX will be available for $299 USD and a 2-year contract commitment.
Both new Sidekicks are almost a matched pair, with the Motorola Slide having slightly fewer features and a screen that slides directly upward, as opposed to the swivel featured on the other models. The Slide will be available on November 7th for $199 and a 2-year commitment.
<!image id=1015 right>Both models support GSM/EDGE and Bluetooth, and come equipped with 1.3 MP cameras (LX comes with its own flash), microSD expandable memory, plus the standard Sidekick communications software with the new mobile MySpace app.
T-Mobile's previous addition of the budget-priced Sidekick ID increased the brand's footprint, helping place it into the hands of celebrities and text-frenzied hipsters who give it visibility.