Lower retail sales per person could mean higher online sales

Initial data from the National Retail Federation point to higher retail sales traffic and higher overall sales for last weekend, but less spent per person in stores - implying more consumers may be hunting for online bargains.
The National Retail Federation's initial report for US consumer spending patterns over the Thanksgiving holidays, released this morning, show some surprises for both optimists and doomsayers: While traffic for retail stores rose 4.8% over the previous year to 147 million active shoppers, a survey conducted by the NRF and BIGresearch estimated shoppers were likely to have paid less per person in retail stores over the weekend, and more online.
In fact, the slightly negative trend for retail sales could be good news for the online sector. Once the figures are totaled, each shopper is expected to have made an average of $347.55 in purchases at retail stores - down 3.5% over the prior year, but up almost 15% from the agreeably dismal year of 2005. Yet for each consumer's expenditure, $93.12 is expected to consist of online purchases - 26.8% of the total. That's a nearly 3.8% higher share than in 2006, and 3.4% higher share than 2005.
---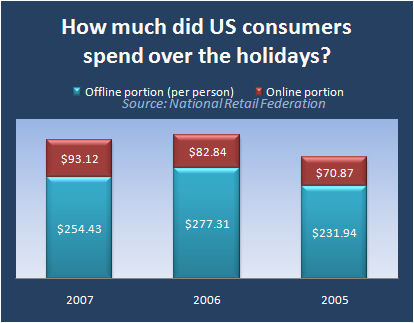 ---
The breakdown of these numbers reveal some interesting trends. Here's what consumers surveyed by the NRF said they purchased last weekend, in order of priority:
NRF: All-around Thanksgiving weekend purchases
1. Clothes
2. Media (books, CDs, DVDs, software)
3. CE gadgets and accessories (consoles, PCs)
4. Toys
5. Gift cards
6. Home decor / furnishings
7. Health and beauty items
8. Other
9. Jewelry
10. Sporting goods
There may be some electronics-related items in the "Toys" category, but overall, nearly 36% of consumers surveyed said they purchased something in the "gadget" category (#3 on the list), while nearly 42% purchased something media-related (#2).
A full 31.6% of consumers surveyed said they did some online shopping (not necessarily purchasing) during the holiday weekend, up a staggering 8.6% from last year's numbers - which were down 4.4% over 2005.
But at the same time, 55.1% of those surveyed conducted transactions at discount retailers - 5.5% higher than the year before - and 38.7% shopped at a traditional department store (Macy's, Dillard's), down just 0.1% and probably within the margin of error. So the mix isn't exactly shifting, but the trend shows that shoppers are apparently more bargain-conscious now than before, and that's why they may be turning more of their attention online.
Who is it that's doing the online buying? The male/female split is right down the middle: 31.6% of men surveyed, 31.6% of women surveyed. Slightly more online buyers have household annual incomes over $50,000 than those under: 37.0% versus 30.6%. The younger age group has the greatest likelihood of shopping online: 39.4% of adults 18-34 shopped online last weekend, versus 32.2% of adults 25-54, and 22.7% of adults 55 and older.
And surprisingly, southerners are the heaviest online shoppers: 37.5% of consumers surveyed from the southern US shopped online, versus 27.1% of consumers from the northeast. Meanwhile, 31.0% of midwesterners and 31.2% of western US consumers shopped online.