Exec exodus from Motorola continues as CTO leaves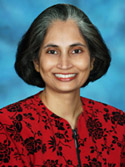 With CEO Ed Zander on his way out, news came Monday that the company's chief technology officer has also left the company.
References to Padmasree Warrior had already been removed late Monday from the corporation's Web site, and a spokesperson confirmed her departure, saying it had been in the works since last month. No reasoning was given for her resignation.
Warrior joined Motorola in 1984 and was named its CTO in 2003. She was also the company's first female executive vice president, and held a number of different titles within the company over her 23-year tenure.
Even at the time of her departure, she remained the highest ranking female in Motorola, and one of the highest ranking Indian-American females in the tech sector overall. So far, she remains mum on any future plans, declining to comment to the press.
Rich Nottenburg, Motorola's chief strategy officer, will take over the spot of directing the company's overall technology strategy. Other CTO's, which the company has for each of its major businesses, will see no change in their current assignments.
It could be possible that Warrior may have been perceived as just as liable as Zander for the company's struggles in following up the success of RAZR, now seen as a dated and struggling product line. She was responsible for the Motorola Labs division, which would be assigned such a task.
She was also described as quite close to Zander, helping him develop the "seamless mobility" vision that helped reinvigorate Motorola in the middle of this decade.