Newer, sleeker Treo comes to Verizon Wireless

Palm announced the online availability of its newest Treo today, the 755p. Will this device be a strong opening to 2008 for the company that has recently been faltering?
Palm continues its commitment to its eponymous OS with the Treo 755p, the successor to the 700p smartphone. It is available today at verizonwireless.com, and will be in VZW stores on January 7.
The device appears to have received a chassis redesign, with the external antenna missing, a slimmer body made of a softer-feeling material, and a slightly larger screen. Otherwise, most of the 700's features have been retained.
It features the full QWERTY keypad, a 1.3 megapixel camera, built in 60 MB of memory upgradeable to 4 GB via miniSD, VersaMail with built-in Microsoft Exchange ActiveSync, and support for Word, Excel, PowerPoint, and PDF documents. Also, it comes with Google Maps installed out of the box.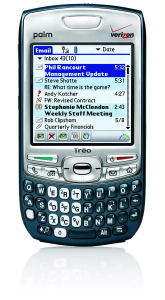 Palm is not, however, on Google's list ofsupporters of the open Android platform. While this cannot be yet marked as a detriment to Palm, some view it as a mark of age for a dying platform.
The Treo 755p is also available to Sprint and Alltel customers.