Toshiba unveils new line of stylish external hard drives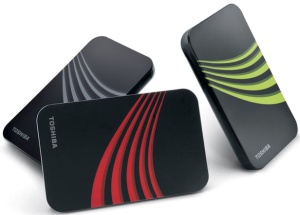 As the demand for stylish hardware increases, manufacturers are stepping up to the plate. The latest external storage line from Toshiba is designed with aesthetics in mind.
Available in colors like Carbon Grey, Hot Rod Red and Gecko Green, Toshiba's goal is to tap into trends currently being reflected in consumer electronics.
The company's new line of mobile drives can pack 60 GB, 80 GB and 120 GB capacities into a tiny 1.8-inch form factor. The 120 GB model is the largest available in a 1.8-inch drive.
Also available are slightly larger 2.5-inch drives, which offers 320 GB, 250 GB and 160 GB options.
Both drive sizes include encryption and backup software.