Okay, I'll admit it. The iPhone makes me giddy with excitement. It's been a year since I first opened its box, feeling like a boy on Christmas morning. Looking at the 2.0 firmware file on my Desktop, all those feelings came rushing back. Except this time around, the software is what I'm most interested in.
This day has been promised by Steve Jobs for over 6 months, and the global release of the iPhone 3G ensured that the new firmware and App Store would be available to US consumers one day early. A direct link to the iPhone 2.0 software, not yet officially available, has enabled early adopters to test out the newly opened platform and the third-party applications it brings with it.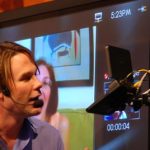 The spotlight item from Creative this year was the inPerson, a WiFi video phone device. The booth at CES was standing-room only, as many were eager to see a demonstration of the inPerson's capabilities.
Despite lackluster demand for video phones in the market, the inPerson demo drew a crowd that rivaled Panasonic's 150-inch HDTV display. Creative hopes its solution will entice people to forgo voice calling for something more futuristic.

This year at CES, almost every booth has a section dedicated to devices designed with aesthetics in mind. Microsoft has become a big proponent of this new fashion-device movement with a dedicated team working with OEMs to develop fashionable hardware.
At any Starbucks, it's not uncommon to see people with their laptops finishing homework, or catching up on e-mails. As it leaves the confines of the office or home, the computer is no longer just a utilitarian device, and now makes a statement about its owner.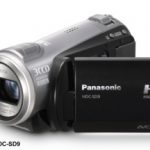 Featuring Leica lenses, image stabilization and 1920x1080 progressive recording, Panasonic unveiled two HD cameras on Tuesday poised to take the throne from Canon in the portable camcorder market.
Apart from storage options, both cameras are identical. The higher-end model, the HDC-HS9, can record to an SD memory card or its built-in 60 GB hard drive, giving it a total capacity of 29 hours of HD-quality video. Its brother, the HDC-SD9, is limited to SD only.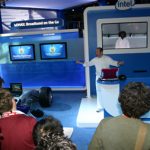 Despite early adoption woes, manufacturers are still confident the WiMAX standard will take hold of the high-speed wireless industry as early as April.
Sprint, one of the major players involved with WiMAX, recently rolled out its Xohm mobile Internet service for Sprint employees located in Chicago, Baltimore, and Washington D.C. The wireless company said Tuesday it plans to have two WiMAX modems released in April, when the network is slated to become available to the public in select cities.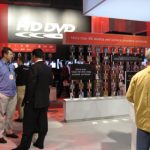 The atmosphere at the HD DVD booth Monday at CES was anything but enthusiastic. Demonstrators forced smiles while politely answering questions from visitors, but their attempts to mask the appearance of utter defeat at the hands of an ally proved challenging.
After last week's announcement from Warner Bros. that it would use Blu-ray as its exclusive content medium come next May, and the HD DVD Promotions Group's subsequent and prompt cancellation of all one-on-one meetings with the press, it's hard to ignore the message the HD DVD Group is sending to the general public. The format war is far from over, however.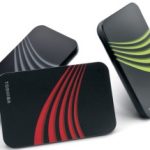 As the demand for stylish hardware increases, manufacturers are stepping up to the plate. The latest external storage line from Toshiba is designed with aesthetics in mind.
Available in colors like Carbon Grey, Hot Rod Red and Gecko Green, Toshiba's goal is to tap into trends currently being reflected in consumer electronics.

Earlier today, Microsoft and BT unveiled a new IPTV service dubbed BT Vision. Powered by Microsoft's Mediaroom software, the capabilities of the platform are leaps and bounds ahead of those offered by current cable providers.
Also new is the device customers can use to watch TV. BT Vision utilizes the Xbox 360, adding an option to the gaming console's media features to launch the television interface. Although the version on the console isn't an exact copy of the one provided on capable set-top boxes, Microsoft ensured BetaNews the end-user experience is identical.

Joining Polk and JBL, Sony, Alpine and JVC have unveiled HD Radio-equipped units that take advantage of the data stream that accompanies the audio on an HD station.
With an iPod connected, consumers have the ability to "tag" a song being played for review at a later time. When the iPod is connected to a computer, all tagged tracks are highlighted for a more streamlined purchasing experience.

Microsoft SYNC, an operating system that will soon be equipped in all new Ford vehicles, was recently updated to analyze the performance of the engine and deliver the results in easy to understand reports. SYNC 2.0 also includes a 911 Assist feature that calls emergency services automatically after a crash using a connected cell phone.
As Microsoft designed the platform to be upgradeable, all Ford vehicles currently on the road have the ability to be upgraded as well.

In the only raw performance test figures revealed yesterday by Intel Senior Vice President Pat Gelsinger at Fall IDF in San Francisco, preliminary tests of the company's forthcoming quad-core "Harpertown" architecture Xeon 5400 show it beating a quad-core Opteron 2300 system in the critical SPEC floating point throughput rate test by just over 4%.
"We have leadership on a broad range of benchmarks," Gelsinger proclaimed yesterday, "literally every benchmark. But the area where competition is closest is in bandwidth-intensive and floating-point areas. And what we see here is [that], with the improvement of the 1600 [MHz] front-side bus, [and] the larger cache of 3.2 GHz, going from [Intel] Clovertown to Harpertown, a 34% improvement."

Popular Linux company Red Hat and UK-based 3G Lab announced Monday plans to create an operating system to be run on wireless devices. Based around Red Hat's eCos, the embedded configurable operating system, the new OS will power Web-enabled mobile phones. The software will be open source, thus allowing developers to download the API and create applications designed for the OS.

The new software is slated to be dubbed eCos/M3, and will have specific features geared towards improving battery life and ensuring smooth streaming media content. While suggested to be the first "wireless Linux," the OS will in fact not be based on Linux or any derivative. eCos is able to run on devices with a much smaller memory footprint than that needed by Linux.

Currently in beta, Adobe has released a 'Save As XML' plug-in for its popular
Acrobat software. This feature enables users to save content from a tagged PDF file into XML, HTML or plain text format, allowing placement of content into other applications. A tagged Abobe PDF file is usually created from Microsoft Office 2000 applications, using the 'Web Capture' feature to convert a Web site to Adobe PDF format.
Currently, the following formats are available:

Semiconductor giant Intel, announced Wednesday that they have produced the technology to bring many futuristic gizmos to today's market. Currently, a wireless device is made up of several different chips, each entitled to their own task such as communications, memory and processing. Intel plans to integrate each of these aspects into one main semiconductor, enabling users to take advantage of faster performance in smaller wireless Internet devices. The company also stated intentions of bringing these new chips to consumers by the middle of next year.
According to Al Fazio, principal engineer for Intel's technology and manufacturing group, "What we're doing here is to take those various components and build them on a single process technology, all produced on a single wafer, a single chip and therefore all done in one facility."

3Com announced Monday that it will be downsizing, leaving 3,000 employees without jobs. That number is 30 percent of the entire 3Com work-force. This move sparks hopes that profitability will return by fiscal 2002. Lately, many tech companies have had to face this decision due to poor profit returns.
The beginning of job cuts involving 3Com began back in February, when the company announced that 10 percent of its telecommunications division would be let go. This decision proved to be an asset to the company's total profit returns. Also, certain product lines such as its Audrey and Kerbango appliances have been discontinued.