Up Close: LG's Viewty phone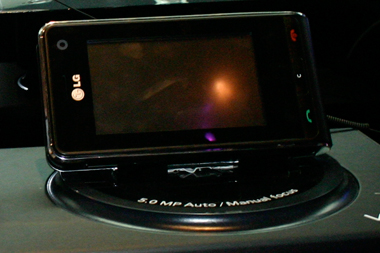 Mirroring the device's global popularity, LG's Viewty (LG-KU990) camera phone seems to be a hot item in the Korean manufacturer's booth at CES today.
The five-megapixel handset was reported by LG at the end of 2007 to be selling approximately 6,300 units daily in Europe, a number far higher than its most successful prior models.
<!image id=1218>
The stylus-driven editing features looked to be the favorites of this swift seller today on the showfloor, with the demo devices passing directly from hand to hand. It also features a 3" LCD touchscreen, a USB interface and TV out, image stabilization, both auto and manual focus, and an overall sleek design.
<!image id=1219>
While this device has been available overseas since November, it is still a new face in the states, and today's crowds at LG's CES booth show that it has the potential for success here.
Unfortunately, there is still no launch date for the device in the United States.