Apple announces iTunes movie rentals with every major studio

During his Macworld 2008 keynote Tuesday, Steve Jobs announced what everyone knew was coming: iTunes movie rentals. An update to Apple TV was also unveiled.
Jobs touted the success of iTunes, noting that the 4 billionth song was sold last week. 20 million songs were sold on Christmas day alone, which is a new 1-day record for the company.
Apple has also sold 125 million TV shows and 7 million movies, but Jobs acknowledged that number did not meet the company's expectations. In turn, Apple will be launching iTunes movie rentals in partnership with Touchstone, MGM, Miramax, New Line, Lionsgate, Fox, Warner Bros. Disney, Paramount, Universal and Sony.
That means every major studio will be offering their movies for renting via iTunes. "We've never offered a rental model in music because we don't think people don't want to rent music. But your favorite movie, most of us watch once, and renting is a great way to do it," Jobs said.
1,000 films will be available to rent by the end of February, and new releases will be added 30 days after the DVD goes on sale. Users can watch the movies on their Mac, Windows PC, current iPods and the iPhone. Movies will start instantly, taking less than 30 seconds to buffer.
As with other movie rental services including Vudu and Amazon's Unbox, customers will have 30 days to start watching the film, and 24 hours from the moment they start it before it expires. Movies can be transferred from the Mac to an ipod while being watched, however you can only play the rented movies on one device at a time.
For pricing, library titles will cost $2.99 USD, while new releases are priced at $3.99 USD. These rates are in line with offerings from other services. Movie rentals will be available in the United States starting today, and internationally later this year.
Admitting that everyone has missed the boat on bringing movies from the Internet to a TV, Apple announced an update to the Apple TV device. Users will be able to rent and buy movies and television shows directly from their TV, along with music from iTunes. Photos can now be pulled from Flickr and .Mac, and videos watched from YouTube.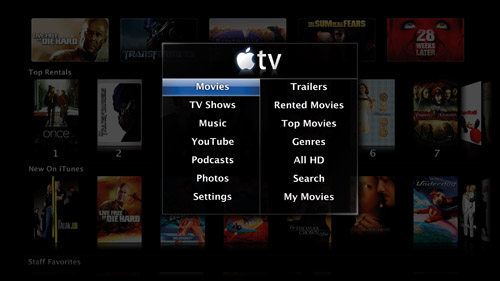 HD versions of movie rentals -- the lower prices are for DVD quality -- will cost $3.99 USD for library titles and $4.99 USD for new releases. "The quality is unbelievable," Jobs said. 100 movies are available today in HD, with more to be added later.
The new Apple TV has an updated user interface that allows users to preview movies directly from the device, and see what other people have rented. The device is no longer tethered to iTunes, which was a major drawback of the original Apple TV, although it can still sync with iTunes as before.
Apple is offering the upgrade as a free software update to existing Apple TV owners. The price is dropping on the device -- which holds 40GB -- from $299 to $229 USD as well. The new software will be available in two weeks, Jobs said.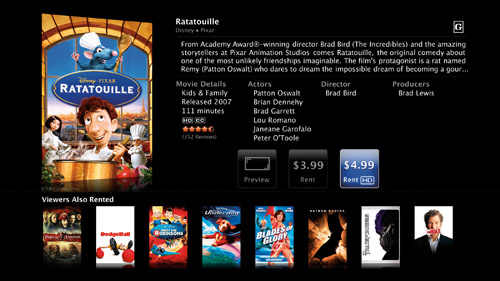 "So this is where we're at with Apple TV. I think it's a revolution. Certainly we've made some progress since our first try," he added. Apple did not announce any hardware changes to the Apple TV or a new model with more storage.
As expected, Fox will be shipping digital copies of movies on DVDs moving forward. It's not yet clear what format they will be in, but the studio said "iTunes compatible."
"Once again, it isn't that Apple has invented something new here, it's how they've done it," explained JupiterResearch analyst Michael Gartenberg. "While existing efforts have been met with a lukewarm response, we're likely to see something very different in terms of consumer response to this. By mapping to the preferred consumer tech eco system and offering enough content to capture interest, this is going to be an important offering."
"Bottom Line? What iTunes was to music stores online, it now is to video rentals," Gartenberg added. "It's an important move that clearly is going to have an impact on the industry in fairly short order. This will change how folks rent movies and at the same time, drive more consumers into the Apple eco system. By creating a standalone product this will put pressure on competitors like Vudu and at the same time provide another purchase funnel to drive consumers into Apple and the iTunes platform."