Taiwanese company tries for cheaper VGA smartphone

Taiwanese company E-Ten doesn't have much brand recognition in the US yet, but it received some notice last year for releasing the "world's thinnest pocket PC" with its Glofiish X500. Now it's adding one more for the value tier.
This morning, E-Ten announced it will continue the expansion of its Glofiish line, but this time aiming toward the value-priced end of the spectrum with the new Glofiish X650 (yes, that's with two "i's").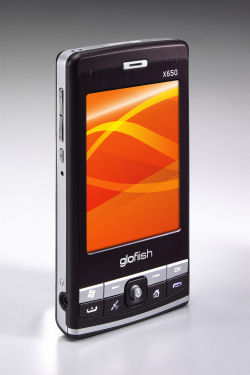 The 107x58x14.7 mm, 139 gram device uses a Samsung SC3 processor running at 500 MHz, has 256 MB ROM, a 2 megapixel Auto-focus camera, and an FM tuner and an FM transmitter "where available" that should enable the device to play MP3s through in-car audio.
It will also have worldwide GSM, Wi-Fi, Bluetooth, and GPS. Like other E-Ten phones, the highlighted feature of the X650 is its VGA display, touting a resolution as much as four times higher than QVGA.
In the UK, E-Ten's pocket PCs are actually quite pricey before tarriffs, and with no carrier scrambling to support these devices in the States yet, they could maintain a steep price despite being cheaper than its relatives.
Currently, there is no price listed for the X650. But E-Ten's promise to premiere this model for the value tier could make this an extremely attractive Windows Mobile phone. If major carriers don't adopt it right away, conceivably it could still receive certification from Verizon Wireless, enabling consumers to purchase it outright and connect to "the network." The X650 is said to be available worldwide in two to three weeks.