Ten-year eBay CEO rumored to be eyeing retirement soon

Is Meg Whitman preparing to leave the top spot of the highly successful auction site? People close to the situation think that the corporate leader, mentor, and self-made billionaire is now ready to open eBay's doors to some fresh new ideas.
With Web mega-auction site eBay about to announce quarterly earnings tomorrow, rumors are afoot that the company's long-time CEO, Meg Whitman, will soon retire from the job she assumed back in 1998, when the then-start-up employed merely 29 people and operated only in the US.
At the time, eBay served as an e-commerce center only for collectible items, according to Whitman. In fact, Beanie Babies-branded stuffed animals were among the early eBay's hottest sellers.
This was a fact that we rarely shared with investors," Whitman joked, during a 2006 talk at Stanford University Business School, which is now viewable, appropriately enough, by following a video link posted at the bottom of a press release on Stanford's Web site.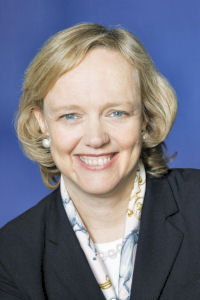 "Over the next ten years, though, Whitman steered eBay through choppy and highly competitive waters while it moved toward becoming the huge corporation it is today, employing 11,000 employees worldwide.
With the release today of a Wall Street Journal report predicting Whitman's imminent retirement, critics are charging that she made some mistakes along the way -- that eBay's acquisition of PayPal came too late, that its more recent Skype buyout has done little for the company, and that eBay needs to somehow transform into a more secure environment, with greater harmony between buyers and sellers.
While her management track record might not be perfect, there are few CEOs of major companies in the online industry that have managed to hang in for as long as Whitman has done -- a fact that also holds true for many e-businesses.
In talking about her own "lessons learned" to the Stanford University students, Whitman delivered a snapsot of what she views as some of her wisest decisions.
The first one, accomplished right away, was to expand beyond the highly limited market of Beanie Babies and other collectibles.
Then, in 1998, Whtiman heeded advice to "go early if you're going to go global." After the acquisition of a company that soon became eBay Germany, Whitman oversaw eBay's expansion into 200 countries worldwide.
She's also broken ground in many other new areas over the years, displaying strong leadership with solid elements of mentoring to others. Whitman attended Princeton University during the mid-1970s, at a time not long after Ivy League and other previously all male colleges first started opening their doors to women.
Displaying an early interest in business management, she was a member of the student organization Business Today. She then went on to receive an MBA from the prestigious Harvard Business School in 1979.
Before arriving at eBay, Whitman rose progressively higher on traditional corporate ladders through a series of stepping stone management jobs at Procter & Gamble, Bain & Company, Walt Disney Company, Stride Rite Corp., FTD; and Hasbro Inc.
With her own net worth through eBay's success now estimated at $1.4 billion, Whitman has reportedly donated more than $30 million to her alma mater, Princeton, paving the way for construction of the university's Whitman College.
While at eBay, she has reportedly often rotated other executives through various operational functions, apparently with an eye to seeing how well each of them might perform as her successor.
Whitman has often been quoted as saying, soon after she first set foot at eBay, that nobody should stay in a CEO position for more than 10 years, in order to allow for the entrance of new ideas. Now people close to the situation think Whitman is about ready to follow through on her own recommendation.