LG's Viewty handset records straight to DivX

It's not just for short, tight Web videos anymore. LG Mobile's popular Viewty handset has just become the first mobile phone to be certified for recording video using DivX compression.
The list of DivX certified devices continues to grow, but the list of mobile phones is still decidedly brief. The other handsets certified to support DivX, both made by Samsung -- the SGH-F500 and SGH-F508 -- only support DivX playback.
Most camera phone video is captured at 15-30 frames per second (fps), but LG's handset camera offers a very high speed 120 fps capture with a 640 x 480 resolution. The device, however, only supports VGA (30 fps) playback.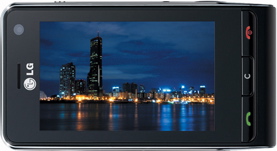 In addition to the quality of the format, by recording in DivX, the Viewty eliminates the need for conversion software that 3GP phone video requires.
DivX includes a list of Viewty retailers on its product profile site, including a link to a retailer selling unlocked versions in the US.