EC commissioner proposes doubling terms of performers' copyright

"Oldies" music remains popular among many generations, which could present a window of opportunity for record companies in Europe to take advantage of royalties terms expiring after 50 years. Today, the EC may be looking to shut that window.
While US lawmakers continue to debate whether terrestrial radio stations should, for the first time in their history, pay royalties to performers of the music they play, in Europe, performers have always gotten some kind of a cut, especially from countries where public radio is subsidized through licenses. This morning, the popular European Commissioner for Internal Market and Services, Charlie McCreevy, proposed extending the term of copyright for performers appearing in recorded music from 50 to 95 years.
"I have not seen or heard a convincing reason why a composer of music should benefit from a term of copyright which extends to the composer's life and 70 years beyond," Comm. McCreevy said during a press conference this morning in Brussels, "while the performer should only enjoy 50 years...often not even covering his lifetime. It is the performer who gives life to the composition, and while many of us have no idea who wrote our favorite song, we can usually name the performer. So I am proposing that performing artists will no longer be the 'poor cousins' of the music business."
Although US terrestrial radio is exempt from performers' royalties, and a resolution introduced in the House last October would keep it that way, the terms of performers' royalties here for those who do owe is 95 years. That number alone is helping to draw some opposition, including from a senior information officer at respected law firm Clifford Chance LLC.
"How American of him," writes the firm's Scott Vine.
"It is unfair that the two terms are not the same," Vine continues. "However, the solution would be to reduce...composer protection to 50 years if you are looking for parity. McCreevy's logic is, because we have no ideas of our own, let's just follow what the Americans do, and go for 95 years... How many times do we have to say this: Copyright is not supposed to function as a pension."
But this morning, the international record labels' representative IFPI issued a statement backing McCreevy, and arguing the gap should be sealed the other direction.
"Performers and producers are provided with 50 years protection on music recordings in the European Union, compared to 95 years provided in the United States," the IFPI pointed out. "There is no justification for this gap in protection, especially at a time when the Internet is providing the opportunity to give early recordings a whole new lease of life."
All over the world, "oldies" stations are finding new popularity, not so much because an older generation can't let go of the music but because a new generation is discovering just how good it is. But with people simply living longer now than they used to, and the gaps between generations widening as a result, "old" music is now older than it's ever been. And McCreevy sees the possibility of broadcasters taking advantage of that stretch.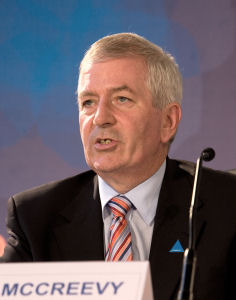 European Commissioner for Internal Market and Services Charlie McCreevy.
"If nothing is done, thousands of European performers who recorded in the late fifties and sixties will lose all of their airplay royalties over the next ten years," McCreevy told the press this morning. Invoking the names of the kings of music, he continued, "I am not only talking about featured artists like Cliff Richard or Charles Aznavour. I am talking about the thousands of anonymous session musicians who contributed to sound recordings in the late fifties and sixties. They will no longer get airplay royalties from their recordings. But these royalties are often their sole pension."
Ensuring that performers continue to receive royalties, and are not -- to use an ironic but fitting phrase -- "grandfathered out," may require EU regulators to take unusual steps, not just with radio broadcasters but recording studios as well.
So as part of the enforcement mechanism, McCreevy is proposing something that would spark tremendous opposition if it were offered before either house of the US Congress: It's a provision that would literally force recording labels to forfeit their publishing rights to music to the performers who appear on tracks, whenever their current 50-year terms have expired and the labels refuse to extend their contracts to the new 95-year standard.
The Commissioner calls it the "use-it-or-lose-it" provision. "In case a record company is unwilling to re-release a performance during the extended term," he described it, "the performer can move to another label who is ready to release his or her work."
This way, half-century-old music can continue to be a source of income for performers who are, McCreevy points out, only just now retiring.
During the same press conference this morning, Comm. McCreevy also stated he will schedule a public conference for sometime this June to tackle the issue of copyright levies on blank media. One way rights holders, including performers, are compensated in Europe for the private copying of their music is through permitted levies on the sale of such items as blank tapes and CD-Rs, and on devices that include flash memory.
But there's no standard for such levies at present, with the result being, he pointed out, levies for the sale of a 4 GB MP3 player may range, from country to country, from as low as zero to as high as €15. McCreevy isn't challenging the fairness of the existence of levies themselves, but is hoping member states can come to some resolution about how much they should allow themselves to charge.