AOL Radio and CBS Radio combine operations in troubled times

What was supposed to be a boom year for Internet radio in 2007 took a very negative turn, according to recent ratings service numbers. And a move by major online and terrestrial broadcasters Friday shows consolidation may be happening earlier than anticipated.
In the spring of last year, when the threats of dramatically higher royalties rates for Internet radio first loomed on the horizon, industry analysts had reason to believe that the audience for the new medium was growing at a rate of about 27% per year. But comScore Arbitron ratings for December 2007 point to the opposite trend: Over a nine-month period, listenership as measured in terms of sampling the average quarter hour (AQH, the average 15-minute slice out of a given measurement period) dropped almost 20.5% for AOL Radio, the US' most listened to Internet radio service.
It's amid that backdrop that AOL Radio announced late Friday it will be partnering with CBS Radio, the nation's second largest owner of terrestrial radio stations, in a deal that will bring content from CBS-owned radio stations to the AOL Player console...and which will also kick XM Satellite stations off of that console.
The partnership will entail a combination of resources, the most eye-opening of which being that it will be CBS Radio that drives advertising sales for AOL Radio stations as well as its own terrestrial stations that will receive extra airplay. This despite AOL's recent refocus toward advertising as its principal profit center.
Keeping those eyebrows raised is the news that Ronning Lipset, a nationwide clearinghouse for radio ad inventory, is being retained to sell spots on behalf of CBS Radio online. What makes that interesting is that since last year, the firm has been operating its own Internet radio enterprise, RL Select, which comScore now lists as the nation's #5 online radio destination.
During that same nine-month period, RL Select's audience grew by just over 26%, becoming the only online service to just exceed analysts' expectations for audience growth for the whole industry.
---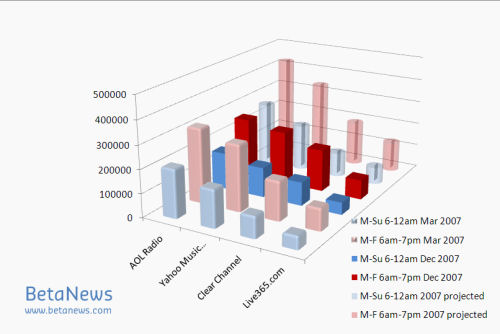 ---
A BetaNews chart of the status of the online radio audience among the US' top four destinations, according to comScore Arbitron's numbers, reveals the problem in detail. At the near end of the chart are the AQH numbers for March 2007, while at the far end were the projected numbers given radio market analysts' projected audience growth rate of 27% per year. In the middle, the most solid columns represent the actual AQL numbers for December 2007. They're paired to reflect the different times in which listeners are sampled: the blue representing samples between 6:00 am clear through to midnight, and the red representing the morning, mid-day, and drive-time hours only through to 7:00 pm.
Last Friday's joint statement from the new partners reflected mainly on what a boon this would be for CBS Radio, whose audiences for stations such as WFAN in New York (the former home of controversial host Don Imus) and KROQ in Los Angeles are expected to see something of a boost, on account of the distribution of a new AOL Radio console produced and programmed -- keep those eyebrows raised high -- by CBS, not AOL.
In an interview with the blog Fishbowl NY, CBS Radio spokesperson Karen Mateo said the new console would include means for online listeners to purchase the albums for songs they're hearing. What Mateo did not say is who would be selling those albums, and whether those sales would be chocked up to AOL or someone else.