New Asus Eee 900 officially launched in Hong Kong

Is it still a UMPC, or is it just a decent version of a shrunken laptop? While very small form factors have often failed, Asus may have found the perfect niche, and is exploiting it for all it's worth.
Yesterday in Hong Kong, Asus launched the newest version of its Eee ultra portable PC, the Eee PC 900.
Improving upon some of the weaker features of its predecessor, the Eee 701, Asus' new version increased the size of the screen from 7" to 8.9", filling in the "blank spaces" where the speakers were mounted in the older model. It also increased the size of the touchpad and added multi-touch capabilities like those found in the latest Macs, and the built-in webcam (which was also omitted from the stripped-down 2G Surf models) was improved from .3 to 1.3 megapixels.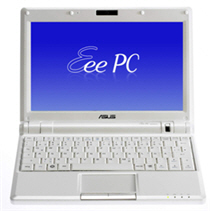 Processing power unfortunately remains the same. The 900 MHz Celeron M Asus was so fond of before Intel's Atom microarchitecture began to edge toward production, is the chip of choice for these PCs. RAM, fortunately, was doubled to 1 GB, and the SSDs come in 12 GB (Windows) and 20 GB (Linux) sizes.
These machines also appear to lack the built-in WiMAX support that some Eees and OQOs were demonstrated to have at this year's CES, and like forthcoming machines such as the Everex Cloudbook MAX promise.
The Eee 900 is expected to be released on May 1, with both the Windows XP Home and Linux models running for the same $3,998HK (512 USD.)