LG's Secret 'iPhone killer' turns up in Britain

LG Electronics has launched its new Secret line in the UK -- a sleek, stylish new camera phone with a shiny carbon fiber casing whose emphasis is not only on "smarts" but also on "trends."
Originally leaked several weeks ago, the Secret follows the LG Chocolate and LG Shine phone models in the Black Label Series, which has helped boost LG's phone sales with more than 25 million sales worldwide.
The Secret is 11.8 mm thick, making it the thinnest 5-megapixel camera available on the market, and features 3G and Bluetooth connectivity. In addition to the 5-megapixel camera, it's able to record video at 120 frames per second directly into the DivX video format. Similar to the Viewty line of mobile phones, Secret also offers inline photo and video editing, with built-in facial editing software and automatic lighting adjustments.
The features list also includes Bluetooth, music playback, FM radio, microSD slot, sliding keypad, support for Microsoft Office files, and 100 MB of internal memory. Gmail, Google Maps, and YouTube videos are bundled with the phone's built-in browser.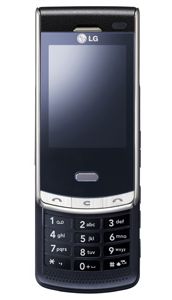 Users can play video games using motion-controlled technology, while using the touch-screen to browse through photos, games, music and other files.
LG will launch the Secret in Europe next month, with launches in Asia, North America and the rest of the world this summer. The company hasn't publicly announced pricing of the new phone, but analysts expect it to be one of the more expensive mobile phones available.
Moving forward, phones wanting to compete with the iPhone -- at least with its current incarnation -- will need to have 3G connectivity, a touch screen, higher megapixel cameras with video playback, and motion-controlled interaction with the phones. Users have dubbed the LG Shine as one of the possible "iPhone killers" that could at least slow down iPhone sales, but its expected high retail price may limit its deadly capability, at least for now.
Apple and LG will both find themselves competing against the Samsung F700 phone, a Microsoft Windows Mobile-based device that features a 5 MP camera, GSM, EDGE and 3G network compatibility, touch screen, and full QWERTY keyboard. The LG Secret will probably be the costliest phone competing in this niche market, with projected prices putting it at least $150 higher than the F700 and iPhone in Europe.