Microsoft President Jeff Raikes leaving to head Gates Foundation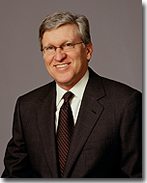 27-year Microsoft veteran Jeff Raikes, who heads the company's Office and business software division, is leaving to become CEO of the <!external href="http://www.gatesfoundation.org/">Bill & Melinda Gates Foundation, the organization announced Monday.
Raikes will take the reigns from Patty Stonesifer, also a former Microsoft executive, who has served as CEO for the foundation since its inception in 1997. Stonesifer said in February that she planned to step aside by the end of the year. Raikes will begin full-time work for the Gates Foundation in September.
Although there has been much speculation about who would succeed Stonesifer, the announcement was not a major surprise. Raikes has long worked closely will Bill Gates, who will also leave Microsoft in July to focus full-time on his philanthropic endeavors.
The Gates Foundation has an endowment of over $37 billion, and focuses on global health, agriculture and finance in developing nations. Melinda Gates said Raikes shares their passion for such issues. With Bill Gates on full-time, the foundation expects to double its employees and expand into other areas of work.
<!article id=1200068034>Microsoft announced in January that Raikes, whose official title was President of the Microsoft Business Division, was retiring. He helped change the public image of the company from one whose management sat back with their feet on the table playing handheld video games, to one whose keen business sense was a textbook lesson for modern American industry.
Assuming Raikes' post will be Stephen Elop, perhaps as different a personality from Raikes' as Raikes' is from Allchin's. Though up until today he was the Chief Operating Officer of Juniper Networks, Elop's true glory came at Macromedia, during the period where the Flash graphical online display tool rocketed to dominant status on the Web.
Elop became its CEO in 2005, after working up the ranks in 1998 after having proven skeptics completely wrong, and convincing an underdeveloped market that Flash and Dreamweaver could be considered tools for generating a successful business.
That formula could be exactly what Microsoft needs at this point in its history, as the intellectual development of today's existing Office components is considered largely complete. Microsoft has a growing arsenal of largely unknown or underappreciated tools, including Silverlight, that might not have a chance of taking off so long as they are targeted toward the developer community entirely. Under Elop's leadership, such tools could conceivably be modulated for business purposes.